EASY SCART VOICE MEDIA PLAYER SOFTWARE UPDATE
Download EASY SCART VOICE MEDIA PLAYER New Software Update, user manual, specification, tools, and apps. DIGIQUEST EASY SCART VOICE MEDIA PLAYER
About this item
Full HD Digital Terrestrial Receiver with 180 ° articulated HD SCART, it can be easily connected behind your TV thanks to the SCART socket or the removable support supplied. 10-bit chipset. If connect…
Full HD Digital Terrestrial Receiver with 180 ° articulated HD SCART, it can be easily connected behind your TV thanks to the SCART socket or the removable support supplied. 10-bit chipset. If connected to an Amazon Echo device, thanks to Alexa you can do everything with the VOICE! It allows you to see photos or listen to music, all in very high definition. CEC function: Use the TV remote control for this unit as well. 12V power supply also ideal for boats and campers.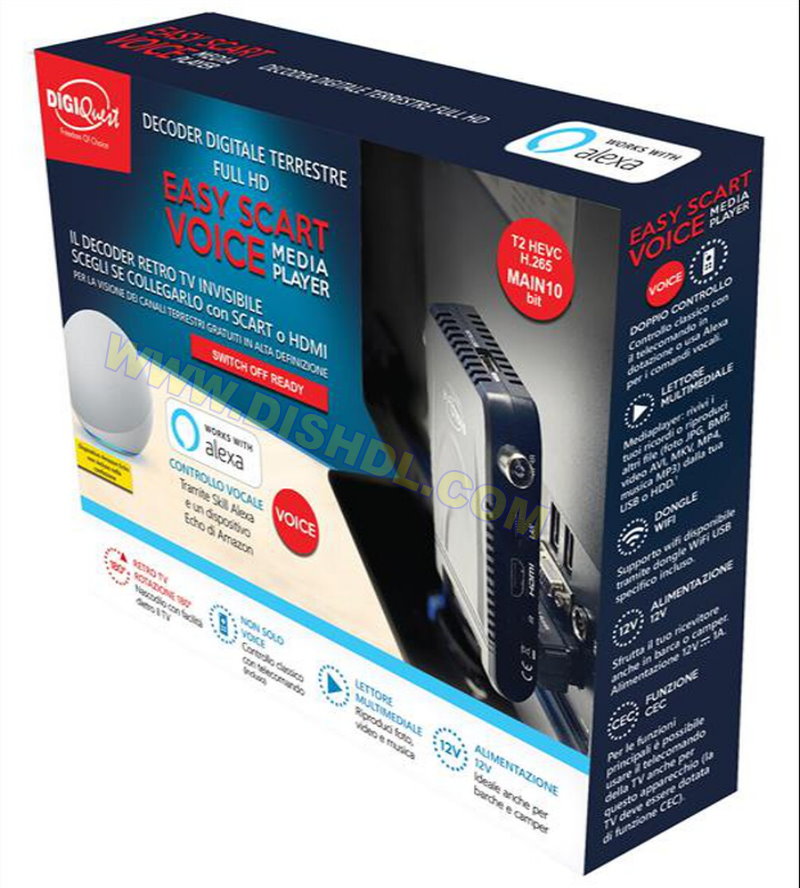 Specification :
DVB-T2 HEVC Main 10 (10bit) digital terrestrial receiver
Video resolution up to 1080p (Full HD)
Playback of video (MKV, AVI, MP4, DiVX), audio (MP3), images (JPG, BMP) *
Supports WIFI connection via specific USB DONGLE (included)
Network APP. Display of the APPs present in the decoder ***
CEC function **
Storable TV and radio channels
Quick installation and easy to use menu
EPG – Electronic TV Program Guide
Teletext
Compatible with Dolby Digital audio encoding
Automatic and manual channel search
LCN – Search with automatic sorting of channels
Automatic update of standby channels
Various channel functions: Favorite lists, Parental controls, etc.
Timer
Video format 16: 9, 4: 3 LB, 4: 3 PS
Subtitles and dual audio (if available)
Switch on on the last viewed channel
Autostandby: automatic shutdown after 3 hours of inactivity
Multilingual menu
Software update over the air (OTA), USB and FTP ***
From external HDD or Pen Drive. Not all HDDs are compatible, externally powered HDDs are recommended.
The TV must have the CEC function.
In order to access Alexa's APP, FTP and Skill it is necessary to be connected to an Internet network via
LAN port or USB WI-FI dongle (included).
EASY SCART VOICE MEDIA PLAYER FILES