GigaBlue Ultra UE
High Definition Digital Satellite Receiver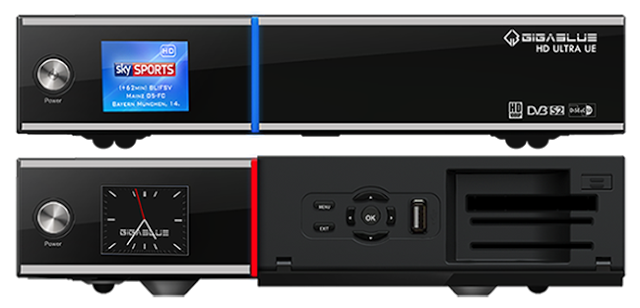 Information
With the GigaBlue Box You can view numerous HD and SD programs,
transmitted via satellite – also over DVB-C / T. In this manual the installation of GigaBlue box and the procedure for implementation will
explains various functions. In addition, special functions are explained in detail which are available only at the box GigaBlue. So you can use these functions optimally. The skin shown here is the GigabluePAX skin, in other skins changed only the graphical user interface, but the functions remain the same.
Features
Fully compatible with MPEG 2/4 and DVB-S / S2
Resolution: 1080p, 1080i, 720p, 576p, 576i
digital audio with AC-3 support S / PDIF
User-friendly, on-screen menu system Linux
Various channel editing functions
(Favorites, Lock, Rename, Delete and Sort)
Automatic search for newly added transponders
(automatic network search)
Easy and fast software upgrade via USB or Internet
timer function, automatic on / off with the appropriate setting of the function (once, daily, weekly and monthly)
automatic system to move earmarked channels
Electronic TV / Radio program (EPG)
Video connectors: HDMI, RCA, COMPONENT
RS-232
Various switch types, LNB types and NTSC / PAL monitor types
SCPC and MCPC receivable from C / Ku band satellite
Multi LNB controlled by DiSEqC 1.0, 22 kHz
Automatic PAL / NTSC conversion
Last channel is automatically saved
play multimedia files like MP3, videos and pictures in HD quality
PVR HDD or network
MediaPortal, Streaming
Timeshift (timeshifting)
Plugin Service (expansions)
HDMI CEC control
Built-in UPnP server / client
Web browser
IP TV, IP Radio



How to Ugrade GigaBlue Ultra UE
GigaBlue Ultra UE Boot Loader
29-11-2016
____________________________
GigaBlue Ultra UE Image 5.4
openmips 4-8-2017