NEXT 2053 DIGITAL SATELLITE RECEIVER LATEST FIRMWARE
NEXT 2053 Satellite Receiver Software Latest Update. Update Next HD Receiver Firmware with New Option. NEXT 2053 Full Hd Ip Compatible Satellite Receiver Wifi Antenna Set Including. Download Upgrade Tool, Next User Manual in English and Turkish. Software PC Next Receiver Fat32 Formatter and Next Receiver STB Link. For All Model Next HD Receiver, Latest Software Update Click Here. New Update and For any Help Contact Us @ Facebook Page or Twitter.
Next 2053 Full Hd Mini Ip Tivi Compatible Dish Antenna and Dish Antensiz (Internet) use Suitable for Satellite Receiver
New Generation CPU With More Fast Channel Switching and Donmasız Release İzletme.
WITH WIRED AND WIRELESS INTERNET (ETHERNET GİRİŞİ AVAILABLE, Wifi Antenna Is Included in the package.)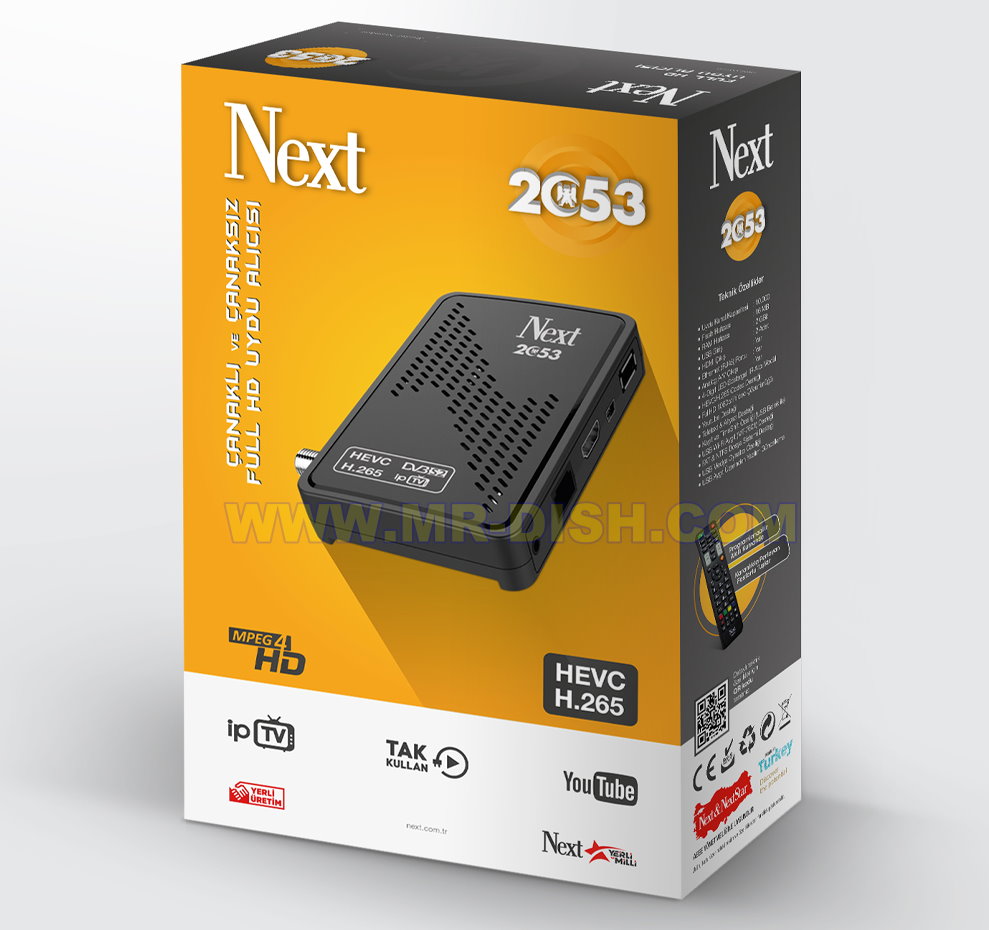 Specification:
Made in TURKEY
Satellite Channel Capacity: 10.000
Flash Memory: 16MB
RAM Memory: 256MB
USB Input: 2 PCs
HDMI Output: Yes
Ethernet (RJ45) Port: Yes
Analog A/V Output: Yes
FREE TV, XTREAM, STALKER, YOUTUBE IT Applications With This Device Operates Smoothly Provider Next Firm.
SINIRSINIZ ÇANAKSIZ TV FEATURE (IP TiVi With Next Supported)
NEW GENERATION PROCESSOR WITH MORE FAST
Next 2053 H.265 HEVC Çanaklı Çanaksız MPEG4 HD Satellite Receiver
Next 2053 H.265 HEVC Internet TvFeatured Çanaklı ÇanaksızMPEG4 HDSatellite Alıcısı
H265 Internet Tv Superior Picture Quality, Low Internet Use (H264'e according to)
Free (Free) Internet Tv and D-Internet Tv, Stalker,POP TVApplications
YouTube Support
Plug N play, Ready Channel List
TKGS Feature
USB Wi-Fi Support
Easy Installation and Modern Interface
4-Digit LED Display IR Receiver Module
HEVC/H.265 Codec Support
FullHD 1080p/i Video Çözünürlüğü
Youtube & Air Condition Support
Teletext & Subtitle Support
Recording and TimeShift Feature (USB Memory with)
USB Wi-Fi Device (MT-7601) Support
FAT & NTFS File System Support
USB Media Player Feature
USB Device Via Software Update
Package Includes:Next 2053 Satellite Receiver, Remote Control, a Battery,4 Digit LED Control Eye,Hdmi Cable, Next Wifi Antenna, User Manual and Warranty card.
Download NEXT 2053 RECEIVER NEW FIRMWARE AND SOFTWARE.