TECHNIKA TP.MS6308.PB710 40" SOFTWARE DOWNLOAD
Download led firmware free for TP.MS6308.PB710 board with the latest update. Here you download led software for all models and sizes. Android Apps, Light Flow, NotifyBuddy, player, and others Led Download. If you can't find your desired software, please get in touch with us on Twitter or Facebook page.
Description :
Introducing the TP.MS6308.PB710, an exceptional combo HD and FHD DVB LED TV non-smart board. This board boasts ISDB-T/DVB-T compatibility, supporting a crystal-clear FHD resolution of 1920×1080. With a refresh rate of 50/60 hertz and an impressive motion rate of 200 SMR, it ensures smooth and fluid visuals. Equipped with multiple HDMI ports, you can effortlessly connect a set-top box, Blu-Ray players, or gaming consoles. Furthermore, it offers several USB ports to conveniently connect hard drives and other USB devices, enabling seamless multimedia playback. The Dolby Sound system delivers immersive audio with a powerful 16 Watts sound output, complemented by HDR display viewing. Additionally, the TP.MS6308.PB710 is capable of supporting Smart TV features like Android. For the convenience of technicians, the firmware files for the TP.MS6308.PB710 is available for free download.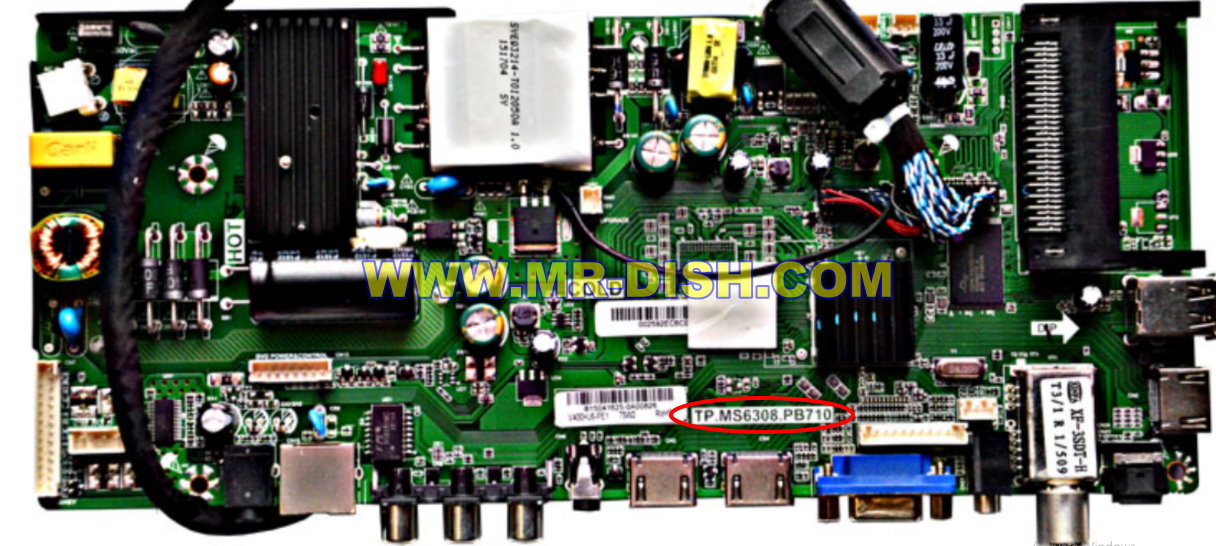 TP.MS6308.PB710 Specifications:
Make/Model: TP.MS6308.PB710
Supported Screen Size: 32 inch tv – 43 inch tv
Operating System: Semi-Smart
Resolution: 1920×1080
Flash Memory: H27U2G8F2CTR@TSOP48
Receiving System: PAL, NTSC
Audio Output: 16W Dolby Digital
Digital Tuner: ISDB-T / DVB-T
Backlight Power: 65-75W
Power Consumption: 75W
Software Version: Not specified
Firmware File: AllUpgrade_6308RTBM.bin
Firmware Type: USB Upgrade & NAND Backup
Compatible with Brands: Technika, Sharp, Blaupunkt
Factory Code: Accessible through Menu 1147
Important Note: The software provided below is a USB bootable and backup dump. Please be aware that Mr Dish Team holds no responsibility for any potential damage or loss incurred during the process of uploading or downloading the firmware. It is highly recommended to carefully inspect the mainboard before proceeding with the software installation. If you are unfamiliar or lack sufficient knowledge in loading or installing software/firmware or dump files, we strongly advise reading the instructions provided here beforehand.
Download Software for TP.MS6308.PB710 LED TV