Alma S2250 Full HD Digital Free To Air Satellite Receiver New Software
Download Alma S 2250 Full HD Digital Satellite TV Receiver Software, and Pc Tools. All About Alma TV Receiver and Download Latest Software Click Here. For Latest Update satellite Receiver, TV Channels, and Satellite Key Like our Facebook Page.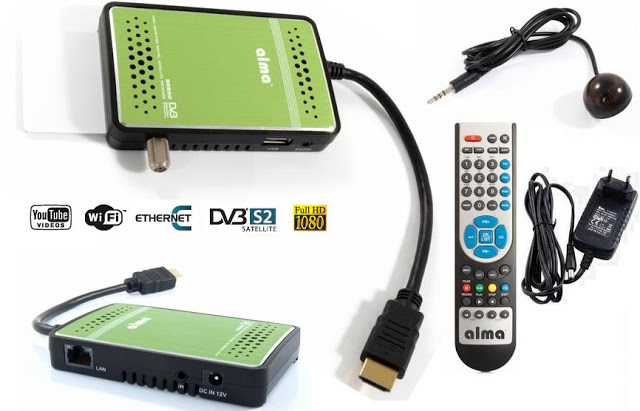 DVB-S2 The ALMA S-2250 is a compact, modern full HD receiver with LAN connection at a very affordable price. Despite its small size it is a full-featured receiver. The advantage of S-2250 is very fast channel switching, and the ease of creating channel lists. The integrated Conax conditional access module allows the tuner to be used to receive encrypted programs. Receiver meets stringent power standards (<1 W stand-by). The receiver has an Ethernet RJ45 port, which allows the use of YouTube and others. It is possible to connect the Wi-Fi modem stick and wireless Internet use. 12V allows for use outside the home, for example. For the camping using energy from the car battery through the cigarette lighter socket.
Features 
1080p Full HD video output via HDMI
compact
Conax conditional access card reader
The ability to connect to the internet through Ethernet or WiFi RJ45 port
Support for youtube
IR external remote sensor
Compatible with DiSEqC 1.0, 1.2 and USALS
Dolby Digital Bitstream via HDMI output
It has the PVR Ready and Timeshift recording (after connecting an external data carrier, which is not included with the unit)
Play files in MKV, AVI, MPG, MOV, MP3
Advanced list management (Delete, block, skip, move, rename)
Supports custom list of favorite programs
To save the channel list to the USB memory and load it again at any time lubprzeniesienie to another receiver
Insterfejs Easy-to-use on-screen display (OSD)
Multilingual menu
Support for subtitles (DVB / TXT)
Software update via USB or RS232
230 / 12V external power supply
Alma S 2250 Software Ver_120B1 mcas