AMIKO A3
FULL HD DIGITAL SMART SET-TOP BOX & SATELLITE RECEIVER
New Firmware and Software Amiko A3 Digital Receiver Review. Amiko a3 custom firmware and Other Amiko receiver Software Download Click Here. Latest Update About Dish network TV Receiver and Tv Channels Like our Facebook Page.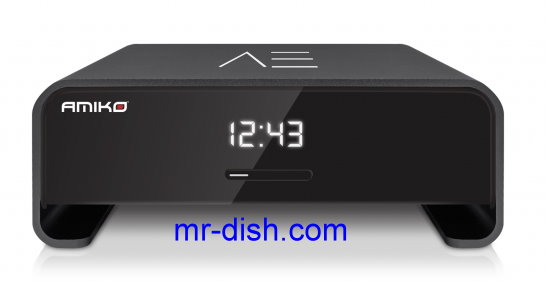 Buy Amiko A3
Information
Amiko A3 satellite Set Top Box, Home Media Center, Internet Streamer … more. The next generation of user-friendly package One. Spark2 user interface, watching Netflix lets you switch seamlessly between web browsing ATSC OTA device, satellite and network environment. Share, clock and laptop, desktop, control of your Android tablet or iOS device. Talk to your A3, she listens with volume control.
High-performance dual-core Cortex A9 running @ 1.5GHz. 1GB of RAM, 8GB built for applications. Internal SATA HDD slot. Jelly Bean Android 4.2 O / S, Kit Kat will be upgraded. Thousands of Apps on Google Play Netflix Filmon, Amazon Video & Hulu Plus, as for your choice. XBMC with HDHomeRun support for ATSC, DVB-T / C ….
You do not need to be there to use or install an advanced STB. AMIKO hasamiko A3 offers advanced features easy to use yet Spark2 our Alien / alien2 models developed by well-proven STB years. Amiko A3 Spark2 friendly GUI to make the STB on the market we A1 / A2 is due to have learned from all of them. Graphically based setup or the more traditional hands-on configuration set yourself a simple choice to follow everything. Use it every day with seamless Spark 2 GUI interface.
Features
Full HD Digital Satellite Receiver and Media Player
Spark 2 / Powered by Android 4.2 Jelly Bean
High-quality aluminum alloy body
Conax Embedded Card Reader
Fast and Easy Installation
Gyro Air Mouse Multi-Function Remote Control, recognition and more talk!
Internal HDD, USB multimedia playback via network or DLNA
Channel Recording to the internal HDD via USB or network
Miracast & Airplay support
2.5 "Internal Hard Drive Support (hard drive not included)
Via Web Interface local network / remote management and streaming channels over the Internet
Remote management and river channels Player app for Android and iOS devices with Spark
Ethernet Connection
Web browsing with support for Adobe Flash Player
Built-in Wireless-N WiFi connection
USB 3G modem support
VPN Support
Supported Android Games
Spark free from the App Store Download a variety of applications and games!
Google Play! Available Store
XBMC Support – build your own Media Center
Full HD – 1080p output via HDMI
DiSEqC 1.0, 1.1, 1.2 and USALS support
Easy software update via Internet
Low power consumption in stand-by mode
SPECIFICATIONS
System Resources
Main Processor: ARM Cortex A9 1.5GHz Dual Core CPU
Flash Memory: 2MB SPI NOR Flash + 8GB NAND Flash
DDR SDRAM: 1GB DDR3
Tuner & Demodulation
Tuner Type: DVB-S / DVB-S2
Input Connector: F-Type (Female)
Signal Level: -65 to -25 dBm
LNB Power: Vertical: +13V/14V, Horizontal: +18V/19V
LNB Current: 400mA max (overload protection)
22kHz Tone: Frequency: 22 kHz ±4kHz
DiSEqC Control: Version 1.0, 1.1, 1.2, USALS (Amplitude: 0.6 ±0.2V)
Demodulation: QPSK, 8PSK, 16APSK
Input Symbol Rate: 2-45Mbps, Convolution Code Rate
FEC: 1/2, 2/3, 3/4, 5/6, 7/8, 1/4, 1/3, 2/5, 3/5, 4/5, 8/9, 9/10, auto
Audio / Video Decoding
Input Rate: Max. 120Mbit/s
Aspect Ratio: 4:3, 16:9
Video Decoding: MPEG-2, MP@ML, MPEG-4 Part 10 / H.264
Video Resolution: 720*480p/i, 720*576p/i, 1280*720p, 1920*1080i/p
Audio Decoding: MPEG-1 layer I/II, Mpeg2 layer II, Dolby Digital
Audio Mode: Left / Right / Stereo / Mono
Sampling Rate: 32, 44.1 & 48KHz
Interfaces
HDMI: Ver 1.4, Type A
S/PDIF: Digital Audio / Dolby Digital Bit-Stream Output
Ethernet: RJ45 (10/100M)
WiFi: Embedded IEEE802.11 b/g/n (up to 150Mbps)
USB: 1 Type A USB 2.0 port, 1 Type Micro B USB 2.0 OTG port (Cable included)
SD Card: Micro SD Card reader
CA: Conax Embedded Smart Card Reader
Remote Controller
Operation Frequency: 2.4GHz
G-Sensor: Supported
Air Mouse: Supported
Voice Recognition: Supported
Game Controller Mode: Supported
Connections:
1x Type Micro B USB port for charging
Power Supply
Type: External Power Supply
Input Voltage: 110V-240V AC
Output Voltage: DC 12V
Power Consumption: 24W Max
Stand-By Power Consumption: <0.5W
Physical Specifications
Size (WxDxH): 160mm x 136mm x 60mm
Operation Temperature: 0ºC – 45ºC
Storage Temperature: -10ºC – 70ºC
Storage Humidity: 5% – 95% RH (Non Condensing)
AMIKO A3 Files
AMIKO A3 Apps Download
Fixed various issues concerning logins
Improved logging support
Added support for internal card reader (Type: internal, device: /dev/smc0)
This is an Android App for your phone or tablet that allows live streaming, remote control, record scheduling, screen capture and more.
Note: Recommended computer side client for use with your A3 and FTP Server App in A3 Appstore
Download Latest Amiko Software and Apps
[Multicrackform]