DIGIQUEST 8212HD DIGITAL SATELLITE RECEIVER LATEST SOFTWARE UPDATE
Download DIGIQUEST 8212HD Sat Receiver New Software Update, user manual, specification, tools, and apps. With the DigiQuest 8212 HD satellite receiver , you can receive all free, unencrypted channels in the best Full HDTV 1080p picture resolution.
This satellite receiver has an HDMI and SCART connection on the back, so it is also compatible with older TV sets.
Digital Satellite Receiver dedicated to the reception of free-to-air channels via satellite, even in HD. Ideal for those who want a complete product with an excellent quality / price ratio. The best f…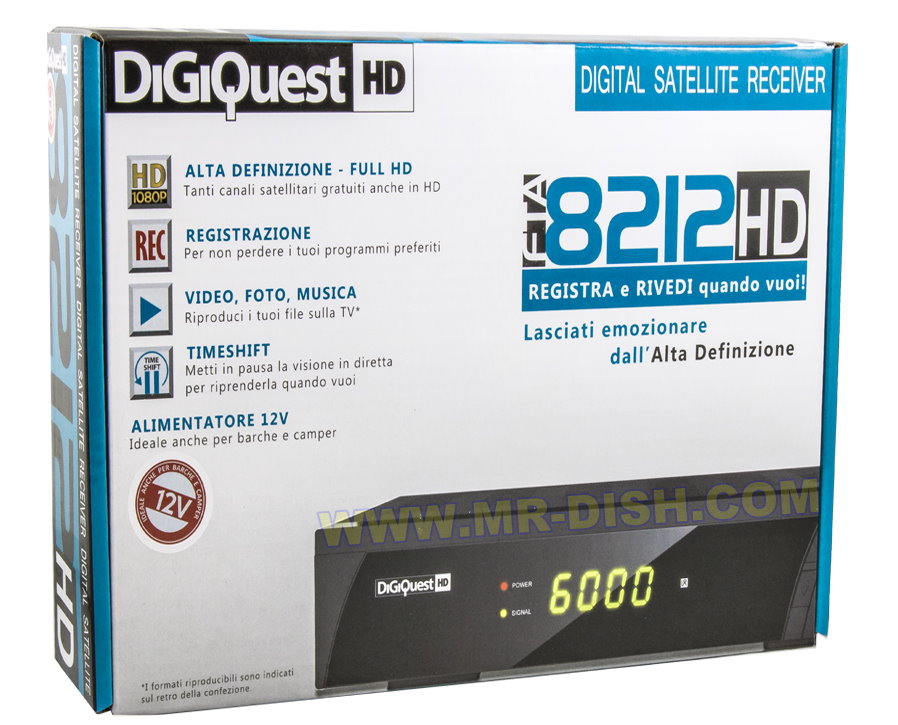 Characteristics:
HD DVB-S2 receiver for high-resolution, digital satellite television
4 stelliges LED Display
Simple menu for quick and efficient use
Fast switching times
Multilingual screen menu (e.g. German, English, Italian, Polish and many more)
supports single-cable receiving systems (SCR EN50494/Unicable)
subtitle
Videotext
Reliable child safety
DiSEqC 1.0 / 1.1 / 1.2 /1.3
Unicable Supported
USALS support
EPG – Electronic Program Guide
Video formats (4:3 and 16:9)
Signal indicator for easy antenna installation
Specification :
DVB-S2 / DVB-S2 Satelliten Tuner (MPEG-2/MPEG-4/H.264)
4000 station presets
Fast Scan, Blindscan
EPG for 7 days
Supports Unicable EN 50494
USB 2.0 for multimedia and software update
S/PDIF for Digital Audio – Dolby Digital AC-3 or DTS
HDMI for full digital image transmission FULL HDTV DVB-S2
SCART connection for older TV models
LNB-in, SAT connection
Demodulation: QPSK, 8PSK, 16APSK, 32APSK
Multilingual menu: German, English, Polish, Italian, etc
DiSEqC 1.0/1.1/1.2/1.3 (USALS)
Auto Scan, Automatic channel search when first installed
Program manager – create TV programs, edit program number, sort programs, recall – call up the last channel, pre-programmed channel list already available
Display Mode: bis zu 1080p Full HD
Aspect Mode 16:9 / 4:3 Letter Box / 4:3 Pan Scan
Video Output-RGB HDMI 1.4
20 programmable timers
Software upgrade via USB
Fast switching time
Automatic stand-by mode after 3 hours
USB multimedia features:
Personal Video Recorder PVR, Timeshift recording to USB
Image (jpg,bmp,gif)
Musik (mp3,wav,ogg,aac,flac)
Video (mkv,mp4,avi,mpg,dat,vob,ts,mov,m2ts,flv,wmv)
Playback from USB stick or hard drive
Software upgrade via USB
DOWNLOAD DIGIQUEST 8212HD FILES