DIGIQUEST 8500CI HD DIGITAL SATELLITE RECEIVER LATEST SOFTWARE UPDATE
Download DIGIQUEST 8500CI HD SATELLITE DECODER Sat Receiver New Software Update, user manual, specification, tools, and apps. Digital satellite receiver for HDTV and standard channels (MPEG 2-4), CAM common interface slot (Tivùsat compatible), USB2 port, PVR with Timeshift.
Digiquest 8500CI HD is a Full HD Common Interface decoder for receiving digital satellite channels.
In addition to free-to-air channels, it allows you to receive the major European pay TVs by inserting your CAM and smart card.
It is compatible with the major CAM common interface CI on the market (Viaccess, Irdeto, Conax…).
It is equipped, among other functions, with PVR and USB port for connecting external peripherals (HardDisk, Pen Drive, etc.) for recording and playing TV programmes.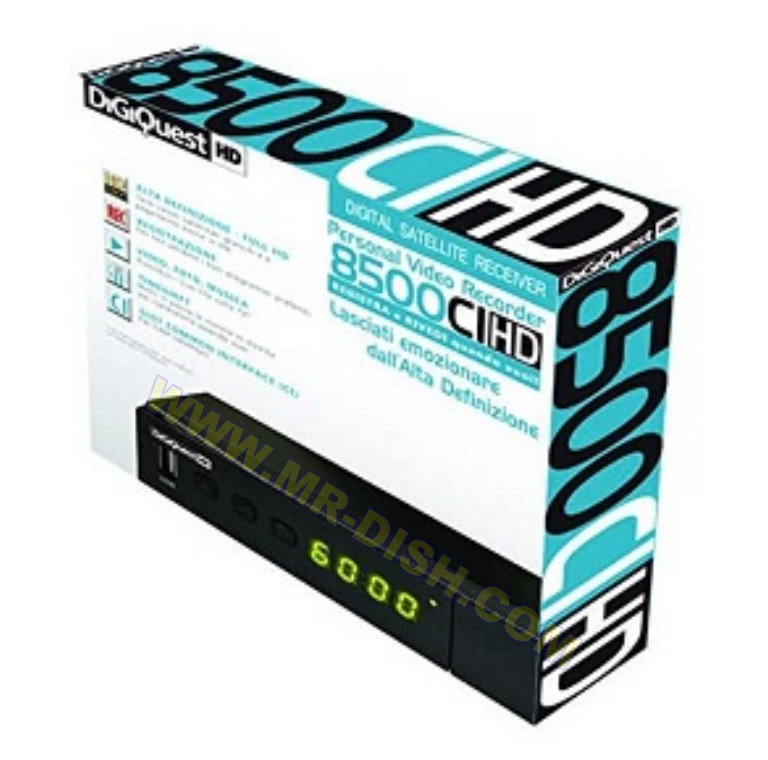 Specification :
Satellite receiver compatible with DVB-S and DVB-S2 standards (MPEG-4, H.264, MPEG-2);
Slot for CAM Common Interface CI
USB port for connecting Pen Drives or external Hard Disks;
Personal Video Recorder (PVR) with Timeshift function , for recording programs on a USB device;
Ability to record 2 channels and simultaneously watch another of the same package;
Reading video (MPEG, TS, AVI, MKV, MP4), audio (MP3, WMA) and image (JPEG, BMP) formats from USB device;
Simplified installation guide and channel search with LCN Tivusat ;
Software update via USB port;
5,000 storable digital TV and radio channels;
DiSEqC 1.2 and Usals positioner for controlling compatible motors, without added cables;
Automatic, manual and BlindScan channel search;
List of favorite channels;
Advanced channel editing functions, such as: move, delete, skip, rename channel, etc.;
DiSEqC tone for the management of dualfeed systems and for switches up to 4 LNBs;
System compatibility with SCR LNB;
IF output for cascading a second decoder;
Management of video formats 4/3 and 16/9;
Scart socket for connecting TV, VCR, etc.;
HDMI digital video output ;
Coaxial-type S/PDIF digital audio output ;
Video resolution up to 1080p (Full HD)
256-color On-Screen Menu (OSD) in various languages, including Italian;
Electronic Program Guide (EPG) display;
Teletext compatibility;
Timer with 20 programmable events;
Compatible with Dolby Digital audio;
built-in video games;
Parental lock for blocking the receiver and reserved channels via PIN;
Maximum consumption: 14W. (<1W standby);
Chassis Color: Black;
Dimensions (L x W x H): 19x17x4.5cm. approx
Equipment: Receiver; Remote control with batteries; Instruction manual in Italian and English.
DOWNLOAD DIGIQUEST 8500CI HD FILES