GigaBlue HD QUAD
High Definition Linux os Digital Satellite Receiver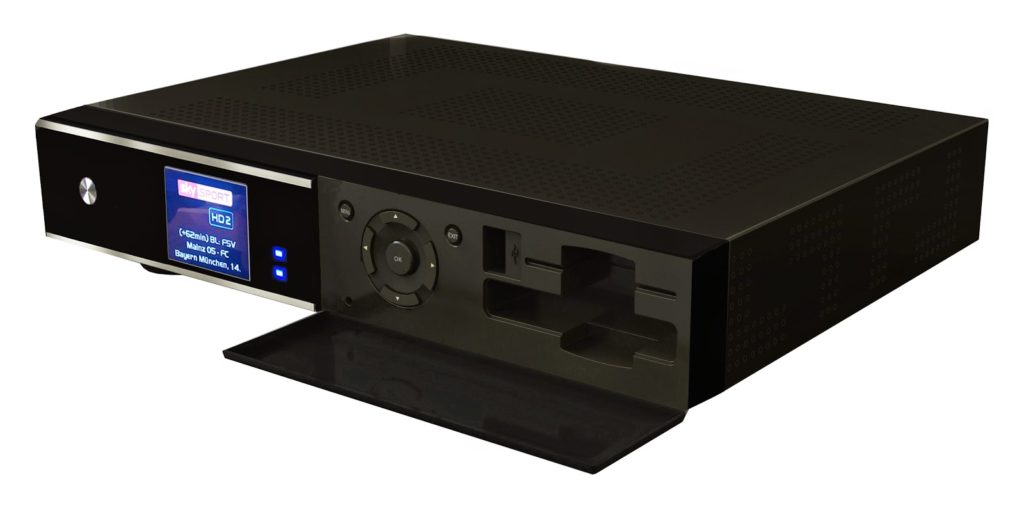 Info
Linux HDTV Receiver Hybrid
DVB-S / S2, DVB-C / C2, DVB-T, IPTV, HbbTV
Brand new HD receiver sets new standards.
Giga Blue Quad – Execution leaves nothing to be desired.
2 tuners DVB-S2 integrated allowing independent dual use. About two tuner slots offer the possibility of extending the receiver to a DVB-T or DVB-C2, and to combine. The powerful processor offers the viewer a high resolution and never experienced a fast switching time. Another special feature of GIGABYTE BLUE QUAD is linking television and the Internet.
Features
Multi archive audio multimedia and video over the network
LCD (color)
EPG 14 days
Control HDMI CEC
PiP (Picture in Picture)
Integrated Server UPnP / -clinet function
Web Browser
Netzwerk-Interface Function Streaming
Service Plugin (Erweiterungen)
Software update via network
Plugin settings above Service
UFScontrol – Plugin for Iphone and Android Smartphones
IP TV, IP Radio
2 x DVB-S / S2 und 2 x Plug & Play Tuner Module Socket
Dual integrated HDTV tuner for satellite reception
2 x Plug & Play hybrid tuner Optional
Record up to four programs in HDTV and other HD-look show.
Receive free and pay-TV channels (CI Schnittstellen 2 and 1 card reader)
Multimedia File HDTV USB PVR mit oder e-SATA for BILD, Video und Musikdatein
Timeshift (Timeshift)
Timer Records (once, daily, weekly, etc.)
EPG, EPG search, PIP, EPG, Timer, Favorites feature
OSD in many languages, DiSEqC 1.0, 1.1, 1.2, Unicable, usuals
Play multimedia files like MP3, JPEG and videos in HD quality
Electronic Program Guide (EPG)
Connectivity to external devices such as a digital camera external hard drive, and more. (3xUSB, LAN)
Optical output for crystal clear sound film