StarMax A100 Full HD

Satellite Receiver Software Update
Download StarMax A100 Full HD Satellite TV Receiver Software Latest Update. And also Download StarMax Software Tools and Channel List. Update StarMax HD Receiver Firmware with Many New Option. For All Model StarMax HD Receiver, Latest Software Update Click Here. New Update and For any Help Contact Us @ Facebook Page or Twitter.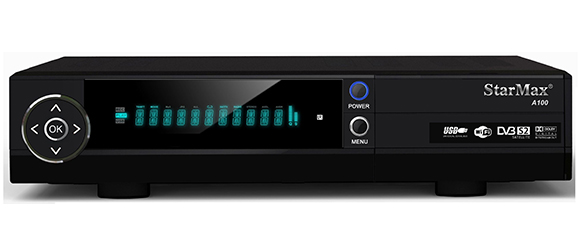 Features
Dvb-s/Dvb-s2 satellite compliant (Mpeg-II/ MPEG-IV/ H.264)
SCPC & MCPC Receivable from Ku and C band satellites 
Universal, single, single S & C Band Wideband LNB
Diseqc1.01.1/1.2/1.3 (USALS) and auto DiSEqC Supported 
Multi satellite search, network search, PID search, Manual search and Multi-TP search 
Output resolution: 576p, 720p, 1080i, 1080p
True full color (32 bits ) on screen display (OSD), QT OSD supported
Strong memory 
Unicable Supported
Blind Search Supported 
Multi-language menu supported
Multi language audio supported
Multi language DVB subtitle output
7 days Electronic program Guide (EPG) can up to 14 days , and Epg from internet
Teletext Output through VBI and OSD 
You tube, USB wifi and Other network application Supported
G-MScreen supported 
Full HD 1080p
Tuner :SHARP
Chipset: ALI M3516
Dual Core CPU
Main CPU : MIPS24Kef (32KI, 32KD)- 594Mhz
2nd CPU : MIPS24Kef (8KI, 16KD)– 570Mhz
New genetration High speed memory DDRIII
DDRIII Memory: 128 Mbyte 1333Mhz/1600Mhz
Flash Memory : 8 Mbyte 
2XUSB 2.0 
StarMax A100 Full HD_ New Software