StarSat SR-2000HD ACE
High Definition Digital Satellite Receiver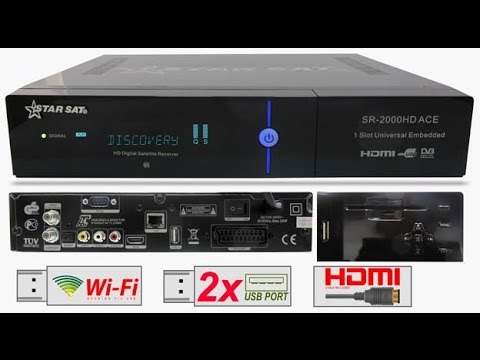 Features
DVB-S/DVB-S2 Satellite Compliant(MPEG-II/MPEG-IV/H.264)
SCPC & MCPC receivable from Ku and C band satellite
Universal, Single, Single S & C Band Wideband LNB
Compatible Code Rates: 1/2, 3/5, 2/3, 3/4, 4/5, 5/6, 7/8, 8/9, and 9/10
Sensitive Tuner with Loop Through
DiSEq C 1.0/1.1/1.2/1.3(USALS)
Unicable Supported
Blind search supported.
Multi satellite search, network search, Multi tp search
Auto DiSEqC Search
PAL/NTSC
Variable aspect ratio(4:3,16:9)with PAN&SCAN vector or letter BOX option
Output Resolution: 480i, 480P, 576i, 576P, 720P_50HZ, 720P_60Hz,1080i_50Hz, 1080i_60Hz, 1080P_50Hz, 1080P_60Hz
16bits Color on screen display (OSD)
Storing memory: 100 satellite, 4000 transponders and 6100 channels
Supported satellite add, delete, rename, move
Supported transponder add, delete, edit
8 favorite group and parental lock supported.
Supported program lock, delete, move, rename.
Supported multi language menu (English, German, Russian, Arabic, Hungarian)
Supported list of programs, have four sort function: FTA>ACS, satellite, transponder, alphabet.
Easy function such as Group Move/Recall History
Multi language audio.
Multi language DVB Subtitle output
7 Days Electronic program Guide (EPG)
Teletext output through VBI and OSD.
Software(data, kernel and file system) upgrade through USB
USB 2.0 interface for digital bit stream out(AC-3)