TNM5000 PROGRAMMER LATEST SOFTWARE & FIRMWARE UPDATE
Download TNM5000 Flash Programmer +RT-BGA63-01 V2.0 adapter,support Samsung BGA63 ONENAND KFG1GN6W2D/KFG1G16U2D/KFG1G16Q2C/KFG1216Q2A/KFG1216U2A. Download Satellite Receiver Flash file and other programmer file. Latest Update about Digital receiver and TV channel Like our facebook page.
TNM 5000 can only read the eeprom part of protected ID RL78. They must have an ID for the flash.
Language:English / Russian/ Arabic / French / Polski / Turkish / Persian / Magyar /Chinese
TNM5000 Selling Points:
Modern super fast programmer for general use and vehicle electronic part repair
1. 23000 device list VIA cable and 48 pin zif socket
2. Fast programming of all EPROM and FLASH memories(8/16/32/40/44/48/56 pins),Nand Chips.
3.Programming of general and custom microcontrollers(motorolla/infinion/…)
4. Programming of GAL/FPGA/CPLD,SRAM/TTL/CMOS tester.
5. PIN detect and detect of ic,for example in pin detect if one or more pin in chip no conect at ZIF soket TNM5000 will inform you
6. no need power supply
7. TNM5000 support all emmc by auto detect.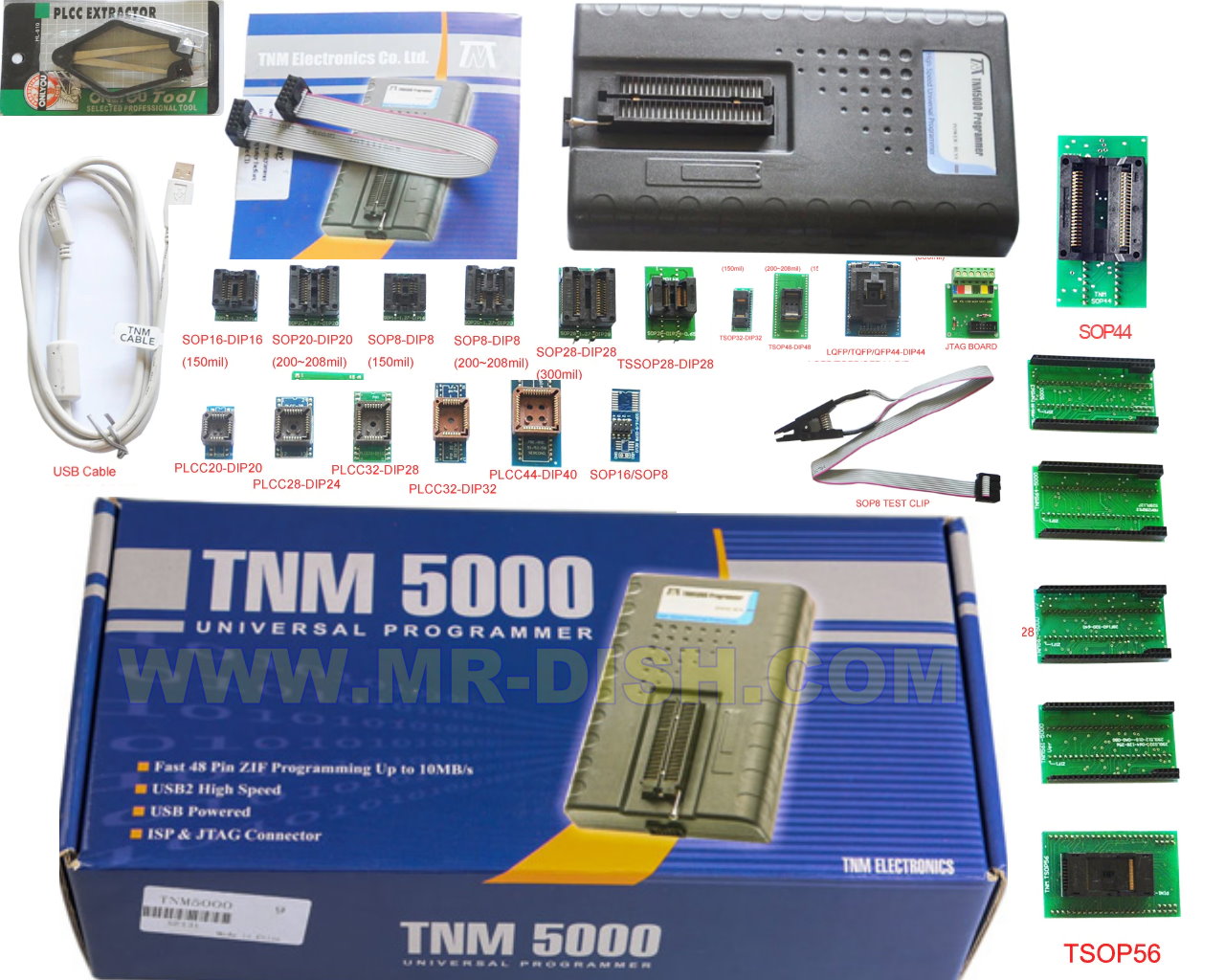 TNM 5000 Programmer Feature:
23000+ Supported Devices Flash Memory (Parallel / Nand /Serial) , EPROM , EEPROM , Serial EEPROM , Microcontroller , NVRAM , FRAM , CPLD , PLD , FPGA).
48-Pins ZIF Socket with Pin Continuity tester & 10-Pins ISP/JTAG Connector.
USB 2.0 High Speed ,Program 1 Gbit Nand Flash less than 50 sec , Reading Serial Flash memory with 6 Mbit/Sec Speed.
Auto-detection of most flash Memories/Microcontrollers with Device ID.
Requirment :
User-friendly software for Windows XP/VISTA/7/8 (32,64 bits). In addition, can support multiple languages (English / Chinese / Arabic / French /FARSI/Russian/Polish……). More languages & Devices can be added by customer request. You Can Download Software & run it in Demo mode to evaluate it.
Multiple Programming is possible by attaching 2 or more Programmers to one PC.
Very low cost Main Unit & Low cost adaptors by using one adaptor for all 32/40/48 TSOP flash memories . All 56 pins flash memories by one TSOP56 adaptor.
Special Abilities like, ALtera U S B B l a s t e r Emulation for Quartus Software, Serial Port Emulation , Vehicle ECU , Immoblizer & Dashboard microcontroller Support.
TNM5000 Programmeris very fast , Low cost , High performance Universal Programmer , specially designed for supporting Flash memories , Nand flashes , Serial EEPROMS , Microcontrollers & Automotive ECU , Dashboard parts.
The Heart of TNM5000 is a 500.0000 Gate FPGA with a designed CPU core with 96MHz Clock for fast programming of chips.
TNM5000 Can support a wide range of chips as below:
Parallel Flash Memories: up to 56 pins parallel flash memories are supported by TNM5000. it Supports different kind of packages (PLCC , TSOP1 , TSOP2 ,VSOP & …). All Flashes can be automatically detected by software in case of unreadable device names. By using a single adaptor for all 32-48 pins TSOP flashes , user only need 1 adaptor for over 2000 flash chips.
Nand Flash Memories:
TNM5000 has an additional Nand+ software , specially designed for Nand flash memories. Nand+ Software has one of the most complete list of Nand flash Memories with algorithms for correction of bad data in MLC Nand Flashes. TNM5000 is one of the fastest Nand Programmers in the world with Read & Write Speed up to 8 MegaByte per Second. All Nand Flashes can be automatically detected by software in case of unreadable or remarked device names.
Serial Flash Memories:
All 8-16 Pins Serial SPI flash memories are supported by TNM5000. All SPI flash Memories can be detected automatically by software in case of unreadable device names. It reads & programs SPi flashes with maximum safe speed on ZIF (6-7 Mbit/second) . Also it Unprotects the write protected flashes before writing data to it.
Microcontrollers:
ATMEL: All AVR 8 bits chips (ATMEGA/ATTINY/AT90S) are supported on ZIF Scocket & by ISP cable. High Voltage Parallel on ZIF Programming of AVR up to 64 pins is supported. newly introduced ATXMEGA Series are supported by both PDI & JTAG Method. Old C51 series & new single cycle C51 series are completely supported. All the above series can be detected automatically by TNM5000. ARM7 programming by JTAG is supported.
Microchip: One of the most complete device list for microchip PIC microcontrollers including all PIC12F /PIC12C /PIC16C / PIC16F / PIC18F / DPIC33F / J & K Series. Devices up to 40 Pins can be programmed on ZIF , All PICs can be detected automatically & programmed by ISP cable.
Others: ST, SST, Philips (NXP) , Motorola , Syncmos, Silicon Lab , ICSI , Infineon , Intel , Winbond & …
Automotive MCUs:
Supporting of ST10F & TMS370 Series by ISP cable for many BOSCH/VALEO/SAGEM ECUs (complete ST10F support of XPROG-m programmer device list). supporting of siemense & infineon SAK-C167 connected to 44 or 48 pins flash (Siemense/BOSCH/SAGEM S2000 ECU) like HSE FlasHit Programmer. Supporting NEC & Motorola Devices for Dashboards.
PLD/CPLD/FPGA:
Supporting All ALTERA JTAG Devices by emulation of USB B l a s t e r Programmer in Quartus Software. Supporting of Xilinx CPLD/FPGA with jed file. Fast Xilinx FPGA configuration with bit file. Supporting of GAL/PALCE Devices with special option for PALCE unlocking.
Software:
With multiple language support (English / Chinese / Arabic / French /FARSI). More languages & Devices can be added by customer request. You Can Download Software & run it in Demo mode to evaluate it.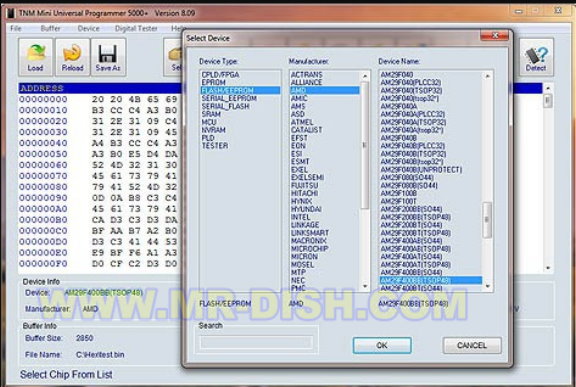 1PC TNM5000 Programmer
1PC USB Cable (for both power supply and data communication)
1PC Installation CD
1PC ISP cable
1PC RT-BGA63-01 V2.0 adapter(includes 1PC 9*11cm board limiter ,If you need
10.5X13mm and 11X10mm border limiter,should pay more 18USD/PC)
Please note: about RT-bga63 second 10pin connector user most be remove or cut pin hader.
(Samsung BGA63 ONENAND KFG1GN6W2D / KFG1G16U2D / KFG1G16Q2C / KFG1216Q2A / KFG1216U2A are added to TNM5000.)
Please note: If you are installing on Windows 8 or 10, you need to disable the driver digital signature check, otherwise the programmer will not install on the system.
Download TNM5000 FLASH PROGRAMMER New Software With New Patch