Homecast HS9000 CIPVR
High Definition Digital Satellite Receiver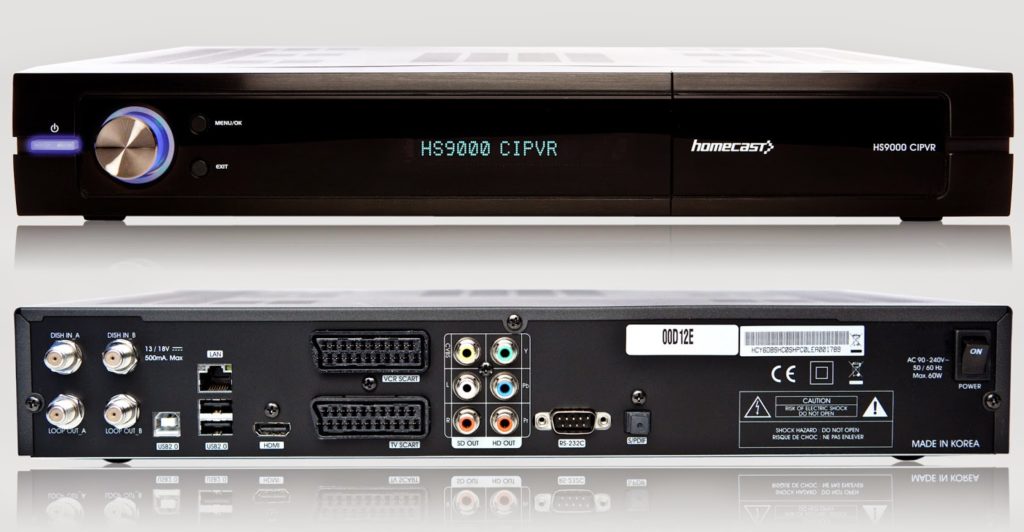 Features
Innovative control knob
Menus easy to use on screen in 19 languages ​​with the installation guide for easy commissioning of the receptor
Energy saving mode in standby mode
Function Section postprocessing of the recorded program
3x USB 2.0 port [Type A] for the connection of an external data medium and 2.0 [Type B] 1x USB for data exchange to PC
Variable Aspect Ratio 4: 3, 4: 3 letterbox or 16: 9
Disec 1.0 (multiswitch), DiSEqC 1.2 / USALS (systems with rotating motor) and Unicablesteuerung EN50494 (cable)
Connections: HDMI1.2, YPbPr, 2x Scart (RGB, YUV or CVBS.), Audio / Video, 3x RCA SPDIF
100Mbit LAN port for integration into the local network
Digital Satellite Receiver PVR Twin-HDTV HDTV, 1080i, 720p and 576p (scale for PAL transmissions)
Switch to a complete closure of the receptor
Simple software update via RS-232 or USB 2.0 [Type A] or satellite (OTA)
Built-in photo viewer
Alphanumeric VFD display with 12 characters and additional symbols
8,000 memory for TV
and radio
Picture-in-picture (PIP) for detecting a second program
Electronic Program Guide (EPG) for a program of up to 7 days
Recording timer for 50 events, easy to program using EPG
Shift function for timeshifting a master list and 8 favorite lists individually adaptable
Two Common Interface (CI) module interfaces pay TV


Homecast HS9000 CIPVR User Manual
29-03-2011
Homecast HS9000 CIPVR Information
03-06-2011
Homecast HS9000 CIPVR Firmeare
Ver_1.14.9A Model ID 5020024000 01-11-2011
____________________________
Homecast 64bit USB Driver 15-12-2010
64-bit Windows driver for the USB Drive HCx program.
Homecast Sky Channel Note 16-09-2009
deposited information about Sky sub channels
Homecast Ugrade Program
Ver_2.25 02-07-2009
Upgrade v. 2:25 With this program you can easily update the operating software of your receiver and contribute so the latest version of the software.
Note: An RS-232 cable required for software. This close accordingly to the receiver and the PC.
Homecast 32bit USB Driver 02-04-2009
HC xDrive is a USB driver software that allows the receiver models are using a USB cable connected to your PC can be recognized as a hard disk of your PC.
Note: You will need an appropriate USB (USB-B to USB-A) cable.
Homecast Edit
Ver_1.21 27-03-2009
HC-Edit Editor v.1.21 is a list of channels to the satellite receiver allows you to create your channel list of the receiver and manage your PC.
Note: An RS-232 cable connection for HC editor software is required.
Homecast Catalog 2011 11-05-2011
Here you will find the current product catalog for 2011,
Note: This document is a PDF Filée. These can be opened with the free "Adobe Acrobat Reader".
If you do not have Acrobat Reader on your computer, then follow this link Adobe Acrobat
Homecast Light or HD DVR Studio 19-03-2010
In collaboration with our partner Haenlein software specifically drew the whole light DVR-Studio (a full version exclusive) is available. With DVR-Studio you can edit your recorded programs on the PC.
With DVR-Studio HD can edit your recorded programs on the PC.
With this program you can generate corresponding data formats and apply for direct PC playback or to create a DVD.