Next 2071 H265 Dishless MPEG4 HD Satellite Receiver
with HEVC IPTV Feature H265 IPTV Superior Picture Quality, Low Internet Usage (based on H264)
Free IPTV, DI.PTV, Stalker and Many More Applications
Multistream (T2-MI Broadcasting)
YouTube Support (FullHD High Definition)
Plug and Play, Ready Channel List
TKGS Feature
USB Wi-Fi Support
Easy Installation and Simple Interface
Domestic and National Hardware and Software
New Features with Constantly Updated Software
Made in TURKEY
Hotel Mode
Stalker MAC Address Manipulation (In All Stalker Accounts Entered) , Creating a Separate MAC Address for Each.)
NextConnect (It is a Special Protocol for Communication between Your Next Satellite Receiver and TV.)
Xtream API Support
Next 2000 HD Internet Machina's H265 HEVC Model with New Features.
NEXT 2071 DIGITAL SATELLITE RECEIVER LATEST FIRMWARE
Download NEXT 2071 TV Receiver Software Latest Update. Update Next HD Receiver Firmware with New Option. Also Download Next User Manual in English and Turkish. Software PC Next Receiver Fat32 Formatter and Next Receiver STB Link. For All Model Next HD Receiver, Latest Software Update Click Here. New Update and For any Help Contact Us @ Facebook Page or Twitter.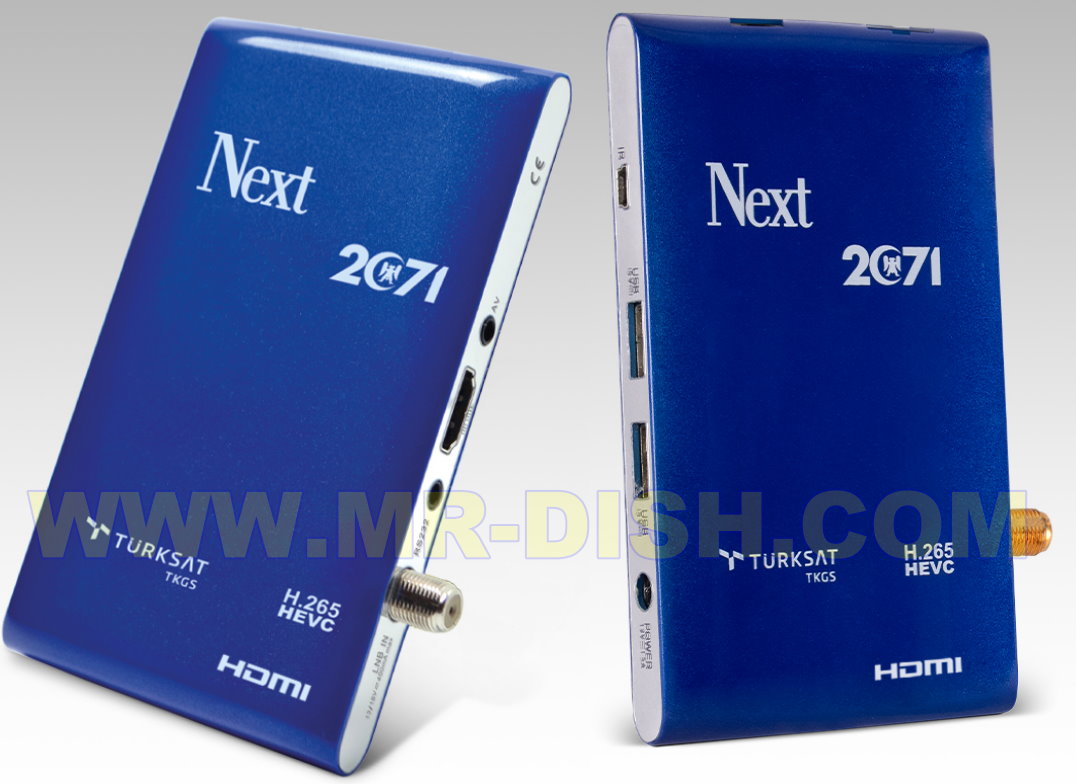 NEXT 2071 SPECIFICATION:
Sat. Channel Capacity: 20.000
I.PTV Channel Capacity: XTREAM API SUPPORT, UNLIMITED CHANNEL
Processor Type: Dual Core
Flash Memory: 16MB
RAM Memory: 256MB
Operating System: RTOS & Next
Smart Card Reader: Yes
USB Inputs: 2 Ports
HDMI Output: Yes
Ethernet (RJ-45) Port: Yes
Digital Audio Output: Yes (Optical)
Analogue (RCA) Output: Yes
HEVC/H.265 Codec Support
TKGS Support
I.PTV & VOD Supported
4-Digit LED Display IR Sensor
FullHD 1080p/i Video Resolution
32bit HD Quality OSD Menu
Youtube & Weather Forecast Support
3D to 2D Conversion Feature
Teletext & Subtitle & Multi-feed Support
2 Channels Simultaneously Recording (with USB HDD)
TimeShift Function (with USB HDD)
USB Wi-Fi (MT-7601) Support
3G USB Modem Support
FAT & NTFS File System Support
USB Media Player Function
USB Hub Support
Firmware Upgrading via USB Port and via Network are Supported
Easy Emergency Firmware Upgrading via USB Port
​
Features Only Available on Next 2071
2000DMIPS & 1866MHz RAM Fastest of Its Type
Non-Stop-Watch (Watching from IPTV automatically when the signal is sent on the channel watched by the Satellite Receiver. This Feature Requires Internet Connection. It Only Includes FreeIPTV Broadcasts.
Stalker MAC Address Manipulation (Creating Separate MAC Addresses For Each Stalker Account.)
NextConnect (A Special Protocol on the Communication of Your Next Satellite Receiver and TV.)
Xtream API Support (Other 2000 and 64 series do not have this feature.)
Next 2071 H265 HEVC IPTV -Satellite Receiver,
Next 2000 HD is the H265 HEVC Model of Internet Machina with New Features.
Download NEXT 2071 SATELLITE RECEIVER NEW FIRMWARE AND SOFTWARE.