,NEXT MACHINA 3D SUPER HD SATELLITE RECEIVER NEW SOFTWARE
Download Next MACHINA 3D Super Full HD TV Receiver Software Latest Update. Update Next HD Receiver Firmware with New Option. Also Download Next User Manual in English and Turkish. Software PC Next Receiver Fat32 Formatter and Next Receiver STB Link. For All Model Next HD Receiver, Latest Software Update Click Here. New Update and For any Help Contact Us @ Facebook Page or Twitter.
The Next Machina 3D Combo Super is a rock-solid satellite receiver. Thanks to the integrated ARM Cortex A9 core processor with 500 MHz and 512 MB DDR3 RAM and 256 MB flash memory, the satellite receiver has a whopping 1700 DMIPS. As solid as the Next Machina 3D Combo Super, it still knows how to impress.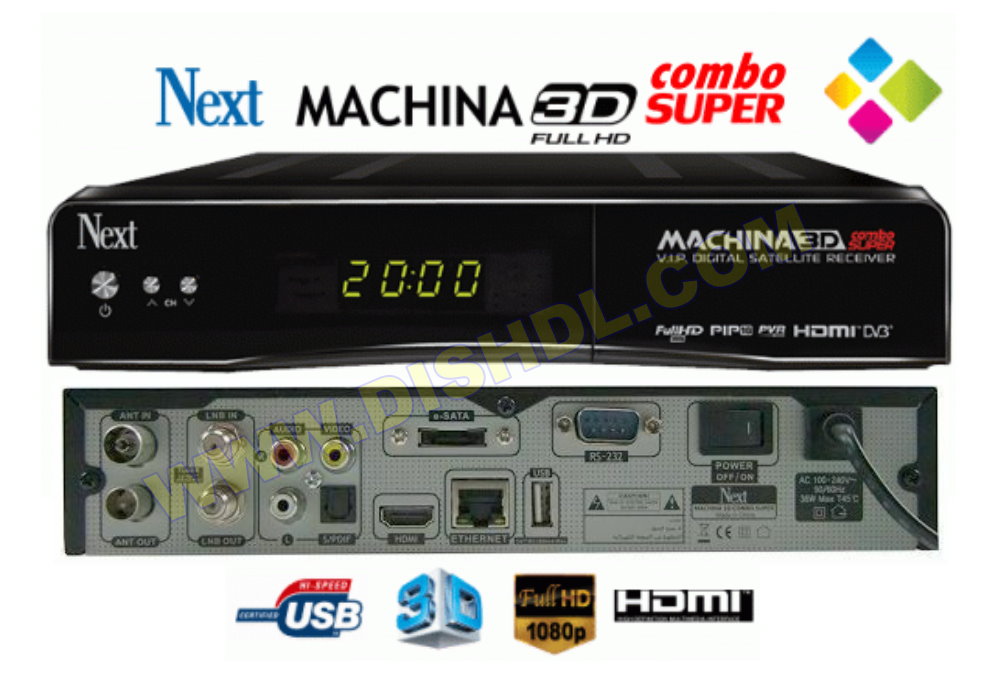 Specification:
2D and 2D broadcasts to 3D There is
USB Wi-Fi /3G Modem Support There is
Memory 512MB DDR3 SD Ram/256MB Flash Memory
HDMI Real FULL HD quality with HDMI v.1.4a 3D Support
Processor• 1700 Dhrystone MIPS Main processor Tuner Introduction1 Satellite+1 TERRESTRIAL&cable tv supported (S/S2) 2 TUNER, High Gain Special TunerFeatures• Excellent Picture and Sound Quality, • Easy to Use and Install. High quality Menus., • 1 Smart Card input, • HTTP, HTTPS, MMS, RTSP, RTMP (IPTV Mode support), • 2 USB 2.0 Inputs, • USB Wi-Fi Support, • USB Webcam (Security) Support, • 20,000 Channel Capacity, • 2 Channel Simultaneous Recording Support (HD/SD), • Special Picture Correction Filters, • Portal Services Support, • S/PDIF Optical Audio Output, • 3 HD / 13 SD Channels LIVE PiP Function, • Ad Skip Function , • 3D / FULL HD Media Player, • Network Media Playback (NEXT DLNA), • TXT/PDF Reader, • Web Browser (QT), • Youtube/Internet Video sites applications/VOD/IPTV, • 4 Digit OFD Display, • Online Software/Technical Support, • Live Radio Background Wallpaper
(opens in a new tab)
Download Next MACHINA 3D Super Full HD Receiver Latest Software