T.MSD309.27A SOFTWARE FREE DOWNLOAD
Free Download the latest update of the T.MSD309.27A Firmware, Dump for LED devices. We offer a unique opportunity to download LED software for all models and sizes. Explore an array of Android Apps, including Light Flow, NotifyBuddy, and other remarkable LED downloads. In the unlikely event that you cannot find the software you're looking for, feel free to reach out to us via our Twitter or Facebook page. Experience the best in LED technology today!
Description :
Introducing the T.MSD309.27A, a user-friendly ATV Driver Motherboard specifically designed for LCD/LED TVs. This cutting-edge T_MSD309_27A board is tailored to cater to the Asia Pacific and Middle East markets, providing optimal performance for these regions. With its non-Combo Board configuration, this motherboard incorporates essential components such as the main power module and LED Backlight Inverter Circuit, ensuring seamless functionality. Additionally, the T MSD309 27A boasts an integrated ATV Card, streamlining the overall setup. Keeping up with the latest requirements, this board is equipped with a comprehensive set of features including HDMI input, USB interface, PC input, Component Input, TV, and Scart. For technicians seeking assistance, we have provided the firmware files for T-MSD309-27A-11093 and 11356 below. Experience the epitome of television technology with T.MSD309.27A!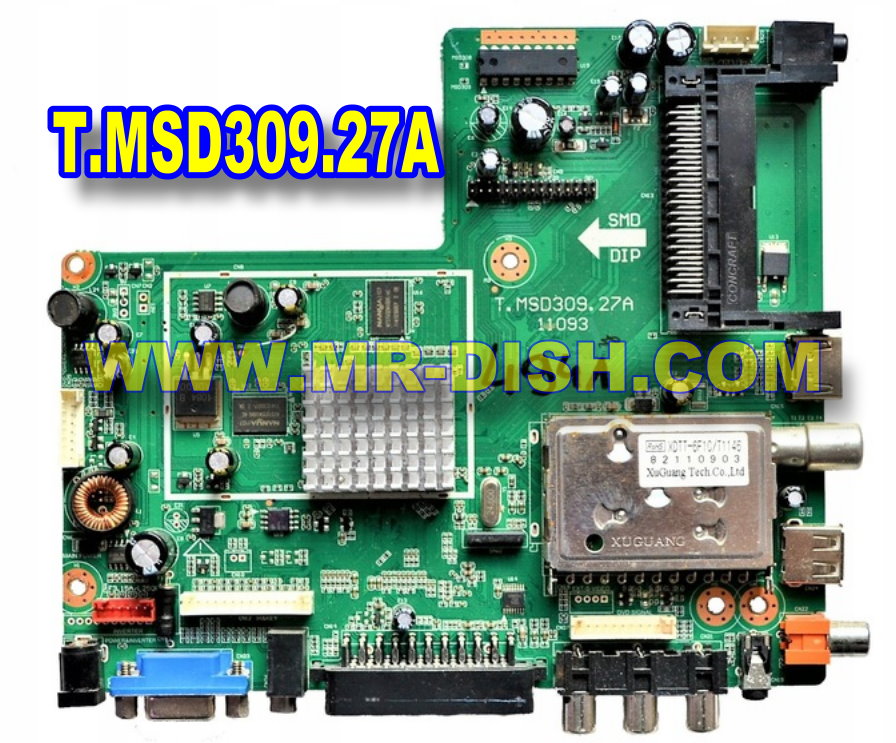 TP.MS6308.PB710 Specifications:
Brand/Mark: Universal Board
Model: T.MSD309.27A 11093&11356
Main Chip: MSD308, MSD309
Product: LED TV
LED Backlight: Not Applicable
Flash IC: 4Mb
Screen supported: 32-46 inch
Resolution: Up to 1920×1080
Panel Voltage: 12V
Power Input: 12V
Sound Chipset: R2A15122
Tuner: XDTT-6F1C/T1146
Service Code:
Source/Input:
File Name: T.MSD309.27A-TV STAR LED22F LM215WF4 25L3205.rar
Note: The following given Software is a backup Dump and can be written by a programming tool. Mr Dish Team is not responsible for any type of damage/loss as a result of uploading/downloading the firmware. First, check the mainboard and then install the software. If you are new and do not have enough knowledge of loading or installing software/firmware or dump files, then read here first.
Please exercise caution while handling the provided software. It is essential to understand that the software provided is a backup Dump, and it requires a programming tool for installation. Mr Dish Team cannot be held responsible for any damage or loss that may occur during the process of uploading or downloading the firmware. Prior to installing the software, we strongly advise conducting a thorough check of the mainboard to ensure compatibility. If you are new to loading or installing software/firmware or dump files, we recommend reading the provided instructions carefully. It is crucial to have sufficient knowledge and understanding of the process to ensure a successful installation. Your utmost attention and diligence are required.
Download Software for T.MSD309.27A LED TV