T.SIS231.11 SOFTWARE FREE DOWNLOAD
Free Download the latest update of the T.SIS231.11 Firmware, Dump for LED devices. We offer a unique opportunity to download LED software for all models and sizes. Explore an array of Android Apps, including Light Flow, NotifyBuddy, and other remarkable LED downloads. In the unlikely event that you cannot find the software you're looking for, feel free to reach out to us via our Twitter or Facebook page. Experience the best in LED technology today!
Description :
Introducing the T.MSD309.27A, a user-friendly ATV Driver Motherboard specifically designed for LCD/LED TVs. This cutting-edge T_MSD309_27A board is tailored to cater to the Asia Pacific and Middle East markets, providing optimal performance for these regions. With its non-Combo Board configuration, this motherboard incorporates essential components such as the main power module and LED Backlight Inverter Circuit, ensuring seamless functionality. Additionally, the T MSD309 27A boasts an integrated ATV Card, streamlining the overall setup. Keeping up with the latest requirements, this board is equipped with a comprehensive set of features including HDMI input, USB interface, PC input, Component Input, TV, and Scart. For technicians seeking assistance, we have provided the firmware files for T-MSD309-27A-11093 and 11356 below. Experience the epitome of television technology with T.MSD309.27A!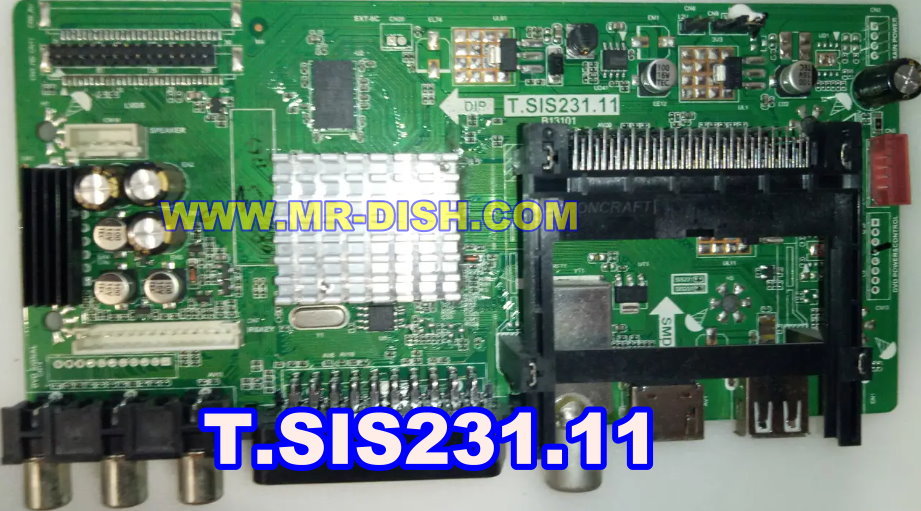 T.SIS231.11 Specifications:
Model: T.SIS231.11
Main Chipset: SIS231
Resolution Supported: 1920×1080
Flash Memory: 25Q64
Television System: PAL (BG, DK), SECAM (BG, DK, LL)
Tuner: N/A
Audio Output Power: 2X6 W (8Ω)
Backlight: N/A
Backlight Power: N/A
Power Input: 12V
Power Consumption: 45W
Service Code: Menu 1147, Balance (value is "0") +1969
Firmware Name: .bin
Firmware Type: Backup Dump
Note: The software/firmware provided below is USB upgradeable and also includes Backup Dump Files. It's essential to understand that Mr Dish Team cannot be held responsible for any damage or loss that may occur as a result of loading or installing the firmware. If you are new to this process or lack sufficient knowledge on how to load or install software/firmware or dump files, we strongly recommend reading the instructions provided here first. Your understanding and cautious approach will ensure a smooth and safe experience.
Download Software for T.SIS231.11 LED TV Board