OCTAGON SF918G SE + HD DIGITAL SATELLITE RECEIVER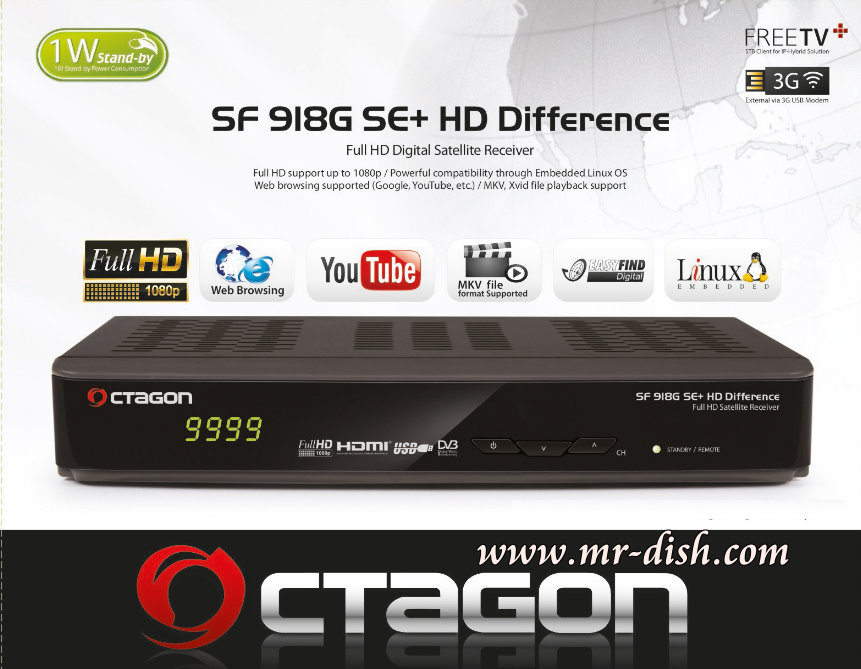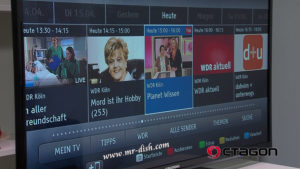 The salient feature of the new OCTAGON SF918G SE + HD is its dimensions. The device is only 22cm x 3.5cm X 14.5cm small. This special feature makes the OCTAGON SF918G SE + HD suitable for (wall) mounting behind a TV (external infrared receiver is available) or in another, hidden place. In addition, the device is ideal for travel or camping use. The small, high performance is functionally as good as its big brothers, but designed for mobile or hidden use. Of course you can still place it visibly. He is an eye-catcher anyway! With the Octagon SF918G SE + Full HD viewers can fully exploit the variety of multimedia options such as Youtube, Web Browser (FreeTV + Add-ons), Internet TV + (IPTV), Internet Radio + (web radio) and much more.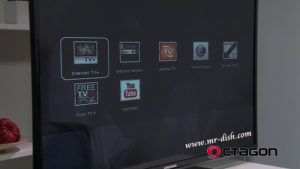 record with the multimedia expert on the hard drives (USB & LAN), archive them clearly and view them with a time delay. The modern Full HD tuner can watch an HD TV program and simultaneously record a program. Connection to external devices is child's play thanks to numerous ports, allowing you to play MP3 files, photos, videos and much more.

Features
450MHz starter processor
256MB Flash & 2 x 128MB NAND memory
Full HDTV PVR Receiver (DVB-S / S2)
H.264 / MPEG4 – HD / SD, DVB-S2 tuner
CI + support
Operating system Linux OS
Time-shifting with external HDD (USB 2.0)
3 stations record + 2 stations LIVE view (PIP)
NTFS, FAT32 and JFS support
NAS drive support (network drive)
Simple recording programming from the EPG
USB 2.0 port (MP3 Player & JPEG Viewer)
Xvid & MKV support
Ethernet interface (LAN 10 / 100MBit)
Wi-Fi & 3G modem support via USB port
DLNA Media Player Support
Internet TV + (IPTV) & FreeTV + Addon Support
Weather forecast function
Web Radio (Internet Radio +) function
Facebook function
Twitter function
DVB-T use via USB port
BIP (Browser in Picture) Web Browser + LIVE TV
Keyboard & mouse support via USB port
4-digit alphanumeric display
EPG data storage on USB storage medium
Blind Scan (SD / HD)
Multi-LNB support through DiseqC control version 1.0, 1.1, 1.2 and USALS
High resolution OSD interface
Favorite groups for TV and radio
Channel sorting functions such as delete, rename, move, lock
OSD in different languages
Teletext and subtitle support
10,000 program slots for TV & Radio
PIP and Multipicture (picture-in-picture) function
childlock
HDMI output of picture and sound (576i, 576p, 720p, 1080i, 1080p)
AV socket for audio & video signal (CVBS)
Hidden mounting by connecting external infrared receiver
Mobile use by 12Volt connection (camping use)
EASY-Find Support
Optical (SPDIF) output via Dolby
Software update function via USB / RS-232 / network
Automatic online firmware detection & upgrade
1 CONAX CA and 1 CI + PCMCIA
UNICABLE & FastScan Support
1 watt standby consumption