VS.T596_V1.1 LED TV SOFTWARE DOWNLOAD
Download led firmware free for VS.T596_V1.1 LED TV with the latest update. Here you download led software for all models and sizes. Android Apps, Light Flow, NotifyBuddy, player, and others Led Download. If you can't find your desired software, please get in touch with us on Twitter or Facebook page.
Model No. VS.T596_V1.1
Main Chipset: TSUMMV29LU
Tuner:
Display Format: up to 1080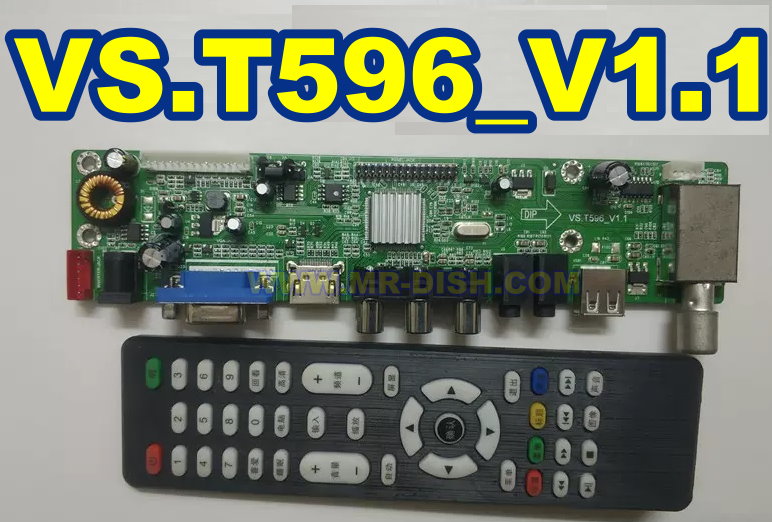 Key Specifications::
TV System Compatibility: PAL/SECAM/NTSC
Panel Interface Options: Single or Dual Channel LVDS
Key Button Functions: CH-/CH+/MENU/VOL-/VOL+/Source/Power
Multi-Language On-Screen Display (OSD): Yes
Input/Output Ports: HDMI, VGA, AV, USB, RF TV interface, and Earphone Out Jack
Audio Output Power: 2 x 5 Watt (8 ohm)
Panel Voltage: +3.3V/+5V/+12V DC (adjustable with jumping cap setting)
USB Port Functionality: Firmware Upgrade and Multimedia Playback Support
Supported USB File Formats:
Audio: Mp3, wma, m4a/aac
Video: avi, mp4, ts/trp, mkv/mov, mpg, dat, vob, rm/rmvb
Picture: Jpg, jpeg, bmp, png
Text: Text
Infrared (IR) Control: Yes (Remote Control Controllable)
Electrical Parameters:
Working Input Voltage: DC +12 Volt
Maximum Current: 2000mA (Without Panel)
Standby Power: <0.2W (for the motherboard only)
Maximum Current for USB: 500mA
Important Note: The provided software below is a backup dump, and its writing requires a programming tool. Please be aware that Mr-Dish Team holds no liability for any damages or losses incurred during the firmware upload or download process. It is recommended to thoroughly inspect the mainboard before proceeding with the software installation. For those who are unfamiliar or lack sufficient expertise in loading, or installing software, firmware, or dump files, we strongly advise reading the guidelines provided here beforehand.
How to Update Led software with USB?
Download Software for VS.T596_V1.1 LED TV