NEXT 2000 HD FTA DIGITAL SATELLITE RECEIVER SOFTWARE UPDATE
NEXT 2000HD FTA Satellite Receiver Software. User manual in English and Turkish Download. How to Upgrade Next Receiver Software and Channel Editor? Download Next Receiver RS232 Upgrade Tools. Upload Program, Upload Editor. Channel Key Editor and  Recovery Editor. All Next  Receiver Current Software Download 2020. Next Receiver Current EMU Key File Current Channel List File Download. How to Install Image Software In Receiver. Next Receiver User Guide Download in PDF Format. To Download Latest Receiver Firmware and Help Desk All about Satellite TV Like Our Facebook Page.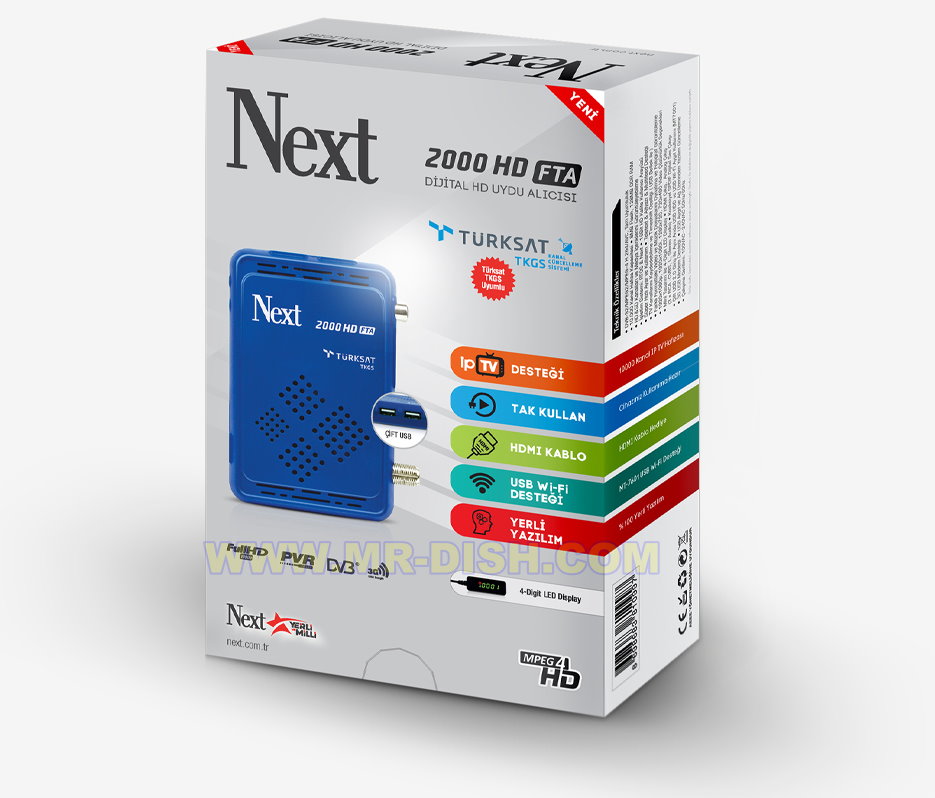 Specification:
Plug and Play, Ready Channel List
TKGS Feature
USB Wi-Fi Support
SCART Cable Support
Satellite Channel Capacity: 10.000
IPTV Channel Capacity: 10.000
Processor Speed: 594MHz
Flash Memory: 8MB
RAM Memory: 128MB
Operating System: RTOS & Next
USB Input: 2 x
HDMI Output: Yes
Analog (RCA) Output: Yes
Digital Audio Output: Yes (Coaxial)
TKGS Support
IPTV Support
FullHD 1080p/i Video Resolution
Youtube & Weather Support
Teletext & Subtitle & Multifeed Support
Recording and TimeShift Feature (with USB Memory)
USB Wi -Fi Device (MT-7601) Support
USB Media Player Feature
Main Features!
Digital Audio Output: Yes ( Coaxial), TKGS Support, IPTV Support, FullHD 1080p / i Video Resolution, Youtube & Weather Support, Teletext & Subtitle & Multifeed Support, Recording and TimeShift Feature (with USB Memory), USB Wi-Fi Device (MT-7601) Support, 3G USB Modem Support, FAT & NTFS File System Support, USB Media Player Feature, USB Hub Support, USB Device, and Software Update via Network, Ability to Install Recovery Software via USB Port,
Sat. Channel Capacity: 10,000, IPTV Channel Capacity: 10,000, Processor Speed: 594MHz, Flash Memory: 8MB, RAM Memory: 128MB, Operating System: RTOS & Next, USB Inputs: 2 Ports, HDMI Output: Yes, Analogue (RCA) Output: Yes, Digital Audio Output: Yes (Coaxial ), TKGS Support, IPTV Support,
FullHD 1080p / i Video Resolution, Youtube & Weather Forecast Support, Teletext & Subtitle & Multi-feed Support, Recording and TimeShift Function (with USB HDD), USB Wi-Fi (MT-7601) Support, 3G USB Modem Support, FAT & NTFS File System Support, USB Media Player Function, USB Hub Support, Firmware Upgrading via USB Port and via Network are Supported, Easy Emergency Firmware Upgrading via USB Port,
DOWNLOAD NEXT 2000HD FTA RECEIVER LATEST SOFTWARE