TE.S512.EA67 SOFTWARE DOWNLOAD
Download led firmware free for TE.S512.EA67 board with the latest update. Here you download led software for all models and sizes. Android Apps, Light Flow, NotifyBuddy, player, and others Led Download. If you can't find your desired software, please get in touch with us on Twitter or Facebook page.
Description :
The TE.S512.EA67 is a versatile LCD/LED TV Board designed specifically for the LVDS interface. It is compatible with LED panels ranging from 19 to 24 inches, offering a maximum resolution of 1920*1080. This board, known as TE_S512_EA67, is a non-combo board, which means that a separate power card and backlight driver module are required. However, it conveniently integrates an ATV board within it.
Featuring multiple input interface ports, such as USB, HDMI, AV, Headphones, and VGA, the TE-S512-EA67 allows seamless connectivity with various devices, including computers. It caters to numerous brands of LED TVs, including Dexp, Erisson, Tiger*, Helix, Shiwaki, Nibban, and more. The USB interface serves a dual purpose, enabling software updates and multimedia file playback.
One of the notable capabilities of TE.S512.EA67 is its support for both analog TV and DTV signals. This ensures compatibility with a wide range of signal types, allowing users to access various channels seamlessly. For technicians and professionals in the field, firmware files for TE.S512.EA67 are provided below to assist with maintenance and troubleshooting tasks.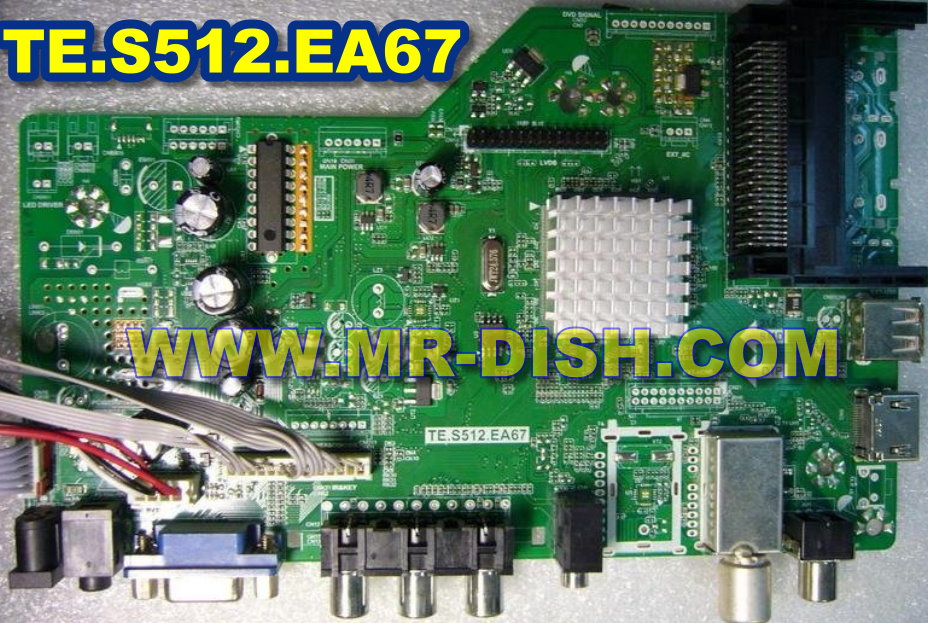 TP.MS6308.PB710 Specifications:
Main Chipset:
Resolution Supported:
The TE.S512.EA67 supports a maximum resolution of 1920×1080, delivering high-definition visuals.
Flash Memory:
The TV board is equipped with a 25Q64 flash memory for storing data.
Television System:
The supported television systems include PAL (BG, DK) and SECAM (BG, DK, LL), ensuring compatibility with different broadcasting standards.
Tuner:
The TE.S512.EA67 features a built-in DVB-T and DVB-C tuner, allowing users to access digital terrestrial and cable channels.
Audio Output Power:
The TV board provides an audio output power of 2X6 W (8Ω), delivering clear and immersive sound.
Backlight:
Information about the backlight technology is not available (NA).
Backlight Power:
Information about the power supply for the backlight is not available (NA).
Power Input:
The TV board requires a 12V power input with a 4 Amp rating.
Power Consumption:
The TE.S512.EA67 consumes approximately 40W of power during operation.
Service Code:
The service code for accessing the TV's menu options.
Firmware Name:
The firmware files for the TE.S512.EA67 have the file extension ".bin".
Firmware Type:
The firmware type is a Backup Dump, providing a reliable backup of the TV's software for maintenance and recovery purposes.
Download Software for TE.S512.EA67 LED TV