CV182H-F LED TV SOFTWARE DOWNLOAD
Download led firmware free for CV182H-F LED TV with the latest update. Here you download led software for all models and sizes. Android Apps, Light Flow, NotifyBuddy, player, and others Led Download. If you can't find your desired software, please get in touch with us on Twitter or Facebook page.
Description :
Embodying simplicity and cutting-edge technology, the CV182H-F stands as a remarkable ATV Driver Motherboard tailored exclusively for LCD/LED TVs. With a keen focus on delivering top-notch performance, this board has been meticulously designed to cater to the distinctive needs of the Russia, Asia Pacific, and Middle East markets. Notably, the CV182H-F is a Non-Combo Board, distinguishing it as a specialized solution for specific TV applications.
To ensure utmost versatility, the CV182H-F comes with a unique configuration, featuring a separate main power module and LED Backlight Inverter Circuit module. While these components are essential for optimal functionality, the ATV Card has been seamlessly integrated into the motherboard, streamlining the installation process and boosting overall efficiency.
Keeping pace with the ever-evolving industry standards, the CV182H-F boasts a comprehensive array of features. Users can enjoy the convenience of multi HDMI inputs, a USB interface for seamless connectivity, PC input for enhanced compatibility, Component Input for versatile media integration, and TV and Scart support for a complete viewing experience.
For added convenience and technical support, we provide the CV182H-F firmware files, empowering technicians with the necessary tools to ensure smooth operations and optimal performance.
Benchmark for ATV Driver Motherboards, seamlessly combining simplicity, innovation, and top-quality performance to elevate the TV viewing experience in the Russia, Asia Pacific, and Middle East regions.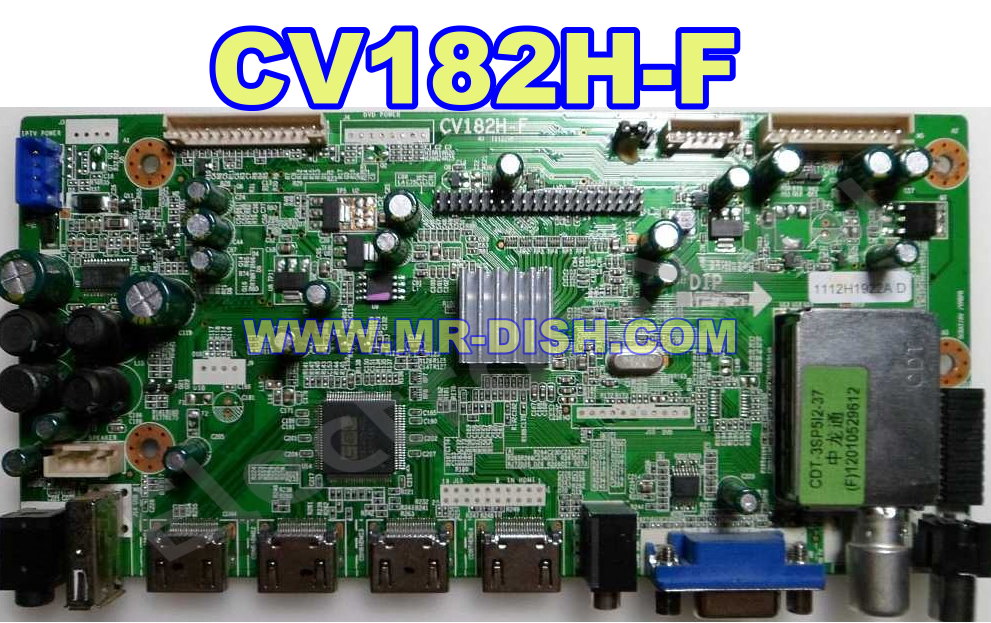 Key Specifications::
Brand/Mark: Universal Board
Model: CV182H-F
Main Chip: MST6M181/182
Product: LED TV
LED Backlight: mA
Flash IC: 4Mb
Sound Chip: TPA3110D2
Tuner: F03WT-3DDR-E
Supported Screen Sizes: 26 to 42 inches
Resolution: Up to 1920×1080
Panel Voltage: 5V, 12V
Power Input: 12V DC
Service Code: Source/Input 2580
How to Update Led software with USB?
Download Software for CV182H-F LED TV