CV206H-C-11 LED TV SOFTWARE DOWNLOAD
Download led firmware free for CV206H-C-11 LED TV with the latest update. Here you download led software for all models and sizes. Android Apps, Light Flow, NotifyBuddy, player, and others Led Download. If you can't find your desired software, please get in touch with us on Twitter or Facebook page.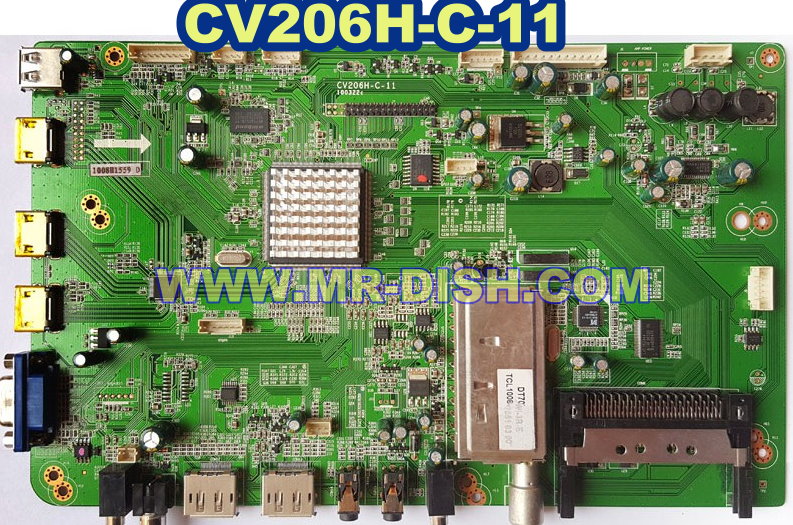 Description :
Introducing CV206H-C-11, a cutting-edge ATV Driver Motherboard thoughtfully designed for LCD/LED TVs. With a focus on simplicity and versatility, this board caters to the discerning markets of Asia Pacific and the Middle East. Truly unique in its capabilities, CV206H-C-11 is an exceptional Combo Board that incorporates the main power module, LED Backlight Inverter Circuit module, and ATV Card directly into the motherboard, streamlining your TV's functionality.
This LED TV Board is packed with all the latest must-have features, ensuring you stay up-to-date with technological advancements. From HDMI input to USB interface, PC input to Component Input, TV, and Scart, it fulfills all your connectivity needs.
To further enhance user experience and offer unmatched technical support, we provide CV206H-C-11 firmware files to assist technicians in their troubleshooting endeavors. Should you encounter any difficulties during the loading or installation of firmware files, fret not, as we offer comprehensive guidance to aid you through the process.
Choose CV206H-C-11 for your LCD/LED TV and elevate your entertainment experience with its exceptional performance and comprehensive features. Stay ahead of the curve with this remarkable motherboard tailor-made for your viewing pleasure.
Key Specifications::
Main Chip:
Equipped with the latest and most advanced main chip for optimal performance.
Product: LED TV
Experience superior display quality with the LED backlight technology, offering vibrant and lifelike visuals.
Flash IC: 8Mb
Enjoy lightning-fast data access and storage capacity with the impressive 8Mb Flash IC.
Sound IC: TPA3110D2
Immerse yourself in crystal-clear audio output provided by the high-performance TPA3110D2 sound IC.
Tuner: DT70W1-3R-E
Access a wide range of channels with the reliable DT70W1-3R-E tuner.
Screen Supported: 26″, 38.5″
Choose from two available screen sizes, 26″ and 38.5″, to match your preferences and space.
Resolution: Up to 1920×1080
Experience stunning visuals with resolutions of up to 1920×1080, providing unparalleled clarity.
Panel Voltage: 5V, 12V
With panel voltage options of 5V and 12V, the Universal Board ensures energy efficiency without compromising performance.
Power Input: 12V DC
Effortlessly power up your LED TV with a 12V DC power input, ensuring smooth operation.
Service Code:
Stay in control with a unique service code that enhances your user experience and facilitates smooth maintenance.
Source/Input:
Connect various sources and inputs effortlessly to expand your entertainment options.
Upgrade your entertainment setup with the Universal Board LED TV – a premium product with top-of-the-line features designed to provide you with an unparalleled viewing experience.
How to Update Led software with USB?
Download Software for CV206H-C-11 LED TV