T.MS18VG.71A LED TV SOFTWARE DOWNLOAD
Download led firmware free for T.MS18VG.71A LED TV with the latest update. Here you download led software for all models and sizes. Android Apps, Light Flow, NotifyBuddy, player, and others Led Download. If you can't find your desired software, please get in touch with us on Twitter or Facebook page.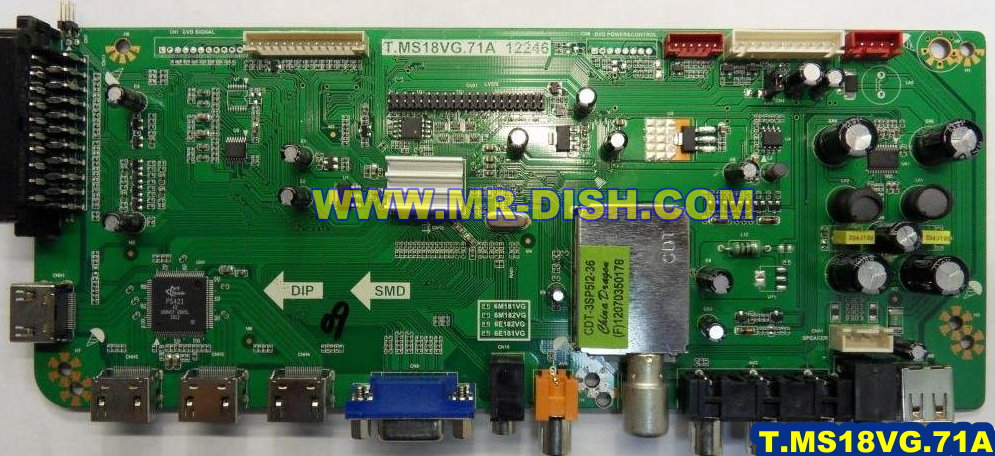 Description :
Introducing the exceptional T.MS18VG.71A, an analog LCD/LED TV Control Board meticulously crafted for the Asia Pacific and Middle East markets. Tailored to perfection, it seamlessly harmonizes with LED panels ranging from 32 to 46 inches, boasting a stunning resolution of 1920×1080. The inclusion of a USB interface elevates the experience, facilitating Multimedia Playback and Software Upgrades with utmost ease.
Notably, the T.MS18VG.A1B is equipped with a multitude of HDMI ports, generously embracing version 1.4 and HDCP support of 1.1. This cutting-edge board harmoniously integrates with both Non-HD and FHD LCD/LED panel screens, showcasing its versatile compatibility. Moreover, the widescreen proficiency of T-MS18VG-71A ensures an immersive viewing encounter, further enhanced by its accommodating multi-language functionality.
Adding to its repertoire, the T.MS18VG.71A boasts a unique AV feature, setting it apart from the rest. As a testament to our commitment, we offer the comprehensive T.MS18VG.71A software collection for complimentary download, underscoring our dedication to delivering excellence.
Key Specifications::
Manufacturer: China
Board Model: T-MS18VG.71A
Main Chipset: Mstar MST6M182VG
TV System: Compatible with PAL, SECAM, and NTSC
Panel Interface: Supports Single-channel or Dual-channel LVDS
Key Button Functions: Functions include CH-, CH+, MENU, VOL-, VOL+, Source, and Power
Multi-Language Support: Yes
Input/Output Ports: Equipped with HDMI, VGA, AV, USB, RF TV interface, and Earphone Out
Audio Output Power: Dual 8 Watt (8 ohms) speakers
Panel Voltage: Supports +5V/+12V DC (Default set to 12V)
USB Port: Includes a USB port for Firmware Upgrades and Multimedia Playback
IR Control: Can be operated via IR Remote Control
Electrical Parameters:
Working Input Voltage: DC 12 Volt
Maximum Current: Up to 5000mA (Excluding Panel)
Standby Power Consumption: Less than 0.5W
Maximum Current for USB: 500mA
Flash IC: 4MB
Firmware: Backup Dump firmware type
Important Note: The provided software below is a backup dump, and its writing requires a programming tool. Please be aware that Mr-Dish Team holds no liability for any damages or losses incurred during the firmware upload or download process. It is recommended to thoroughly inspect the mainboard before proceeding with the software installation. For those who are unfamiliar or lack sufficient expertise in loading, or installing software, firmware, or dump files, we strongly advise reading the guidelines provided here beforehand.
How to Update Led software with USB?
Download Software for T.MS18VG.71A LED TV