NEXT 2023 HD Satellite Receiver New Firmware
Download NEXT 2023 HD TV Receiver Software Latest Update. Update Next HD Receiver Firmware with New Option. Also Download Next User Manual in English and Turkish. Software PC Next Receiver Fat32 Formatter and Next Receiver STB Link. For All Model Next HD Receiver, Latest Software Update Click Here. New Update and For any Help Contact Us @ Facebook Page or Twitter.
4-Digit LED Göstergeli Ön Panel
FullHD 1080p/i Video Çözünürlüğü
Teletext & Altyazı Desteği
Kayıt ve TimeShift Özelliği (USB Bellek ile)
USB Wi-Fi Aygıt (MT-7601) Desteği
FAT & NTFS Dosya Sistemi Desteği
USB Medya Oynatıcı Özelliği
USB Aygıt Üzerinden Yazılım Güncelleme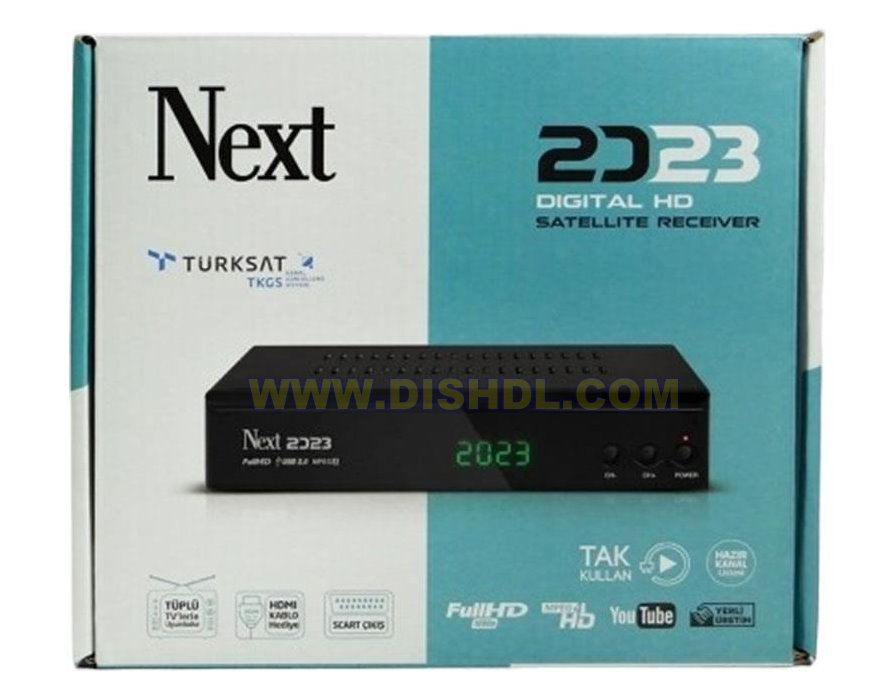 Specification:
Processor speed : 600MHz
Operating System: RTOS & NEXT
Flash memory: 4 MB
RAM: 64MB
Channels: 5000
FullHD 1080p / i video resolution
Easy installation and simple interface
List of Plug & Play Ready channels
220 mm front panel instead of 170 mm (2020 version)
4-Digit LED Display Front Panel
Teletext & Subtitle Support
TKGS support
USB input: 1 port
HDMI output: Yes
Analog Scart output: Yes
RF modulator output: Yes (Fixed channel)
Wi-Fi USB device support (MT-7601)
USB Media Player function
FAT & NTFS file system support
Recording and time change function (with USB HDD)
Software Update & Software and Internet Upgrade Channels
Internet connection With USB Wi-Fi (MT-7601), USB 3G Modem
Internet Applications: YouTube, Weather, IPTV, X-PANEL, X-TREAM (With USB WiFi)
IR Remote Control Receiver: 4 Digit Display
Operating Voltage: 12V DC
NEXT 2023 combines high quality and high performance with a 600MHz processor power.
Product description:

Next 2023 Desktop MPEG4 HD Satellite Receiver
Plug and Play, Ready Channel List
TKGS Feature
USB Wi-Fi Support
Easy Installation and Simple Interface
Domestic and National Hardware and Let's Write
Made in TURKEY
TKGS Support
4-Digit LED Display Front Panel
FullHD 1080p/i Video Resolution
Youtube & Weather Support
Teletext & Subtitle Support
Recording and TimeShift Feature (with USB Memory)
USB Wi-Fi Device (MT-7601) Support
FAT & NTFS File System Support
USB Media Player Feature
Software Update via USB Device
(opens in a new tab)
Download NEXT 2023 HD Receiver Latest Software